When companies from Western Europe focus their efforts on exploring the top-notch tech talent pool from Eastern Europe, they often find themselves leveraging between culture-fit patterns. However, as reported by Gallup in their 'State of the Global Workplace 2022 Report', the differences between the 2 areas are minor. Let's take a look into the numbers.
Employees experience in Western and Eastern Europe
The latest Gallup report on the 'State of the Global Workplace' evaluates the general work and life vibes of employees around the world from 2021 to as late as March 2022. To elaborate the study, 1,000 individuals from 160 countries were questioned face to face or via phone. However, for this article, data related to 5 of Western European countries looking for the biggest number of tech talents (the United Kingdom, the Netherlands, Belgium, Germany, France) and 5 of the most important tech talent pools in the Eastern Europe (Romania, Bulgaria, Moldova, Hungary, Poland) was drawn. The numbers refer to 5 categories related to Employee engagement and Life evaluation, as well as Daily negative emotions and Job market.
Employee Engagement
Employee engagement refers to the degree of commitment, dedication and motivation employees have for their job, their company and workplace.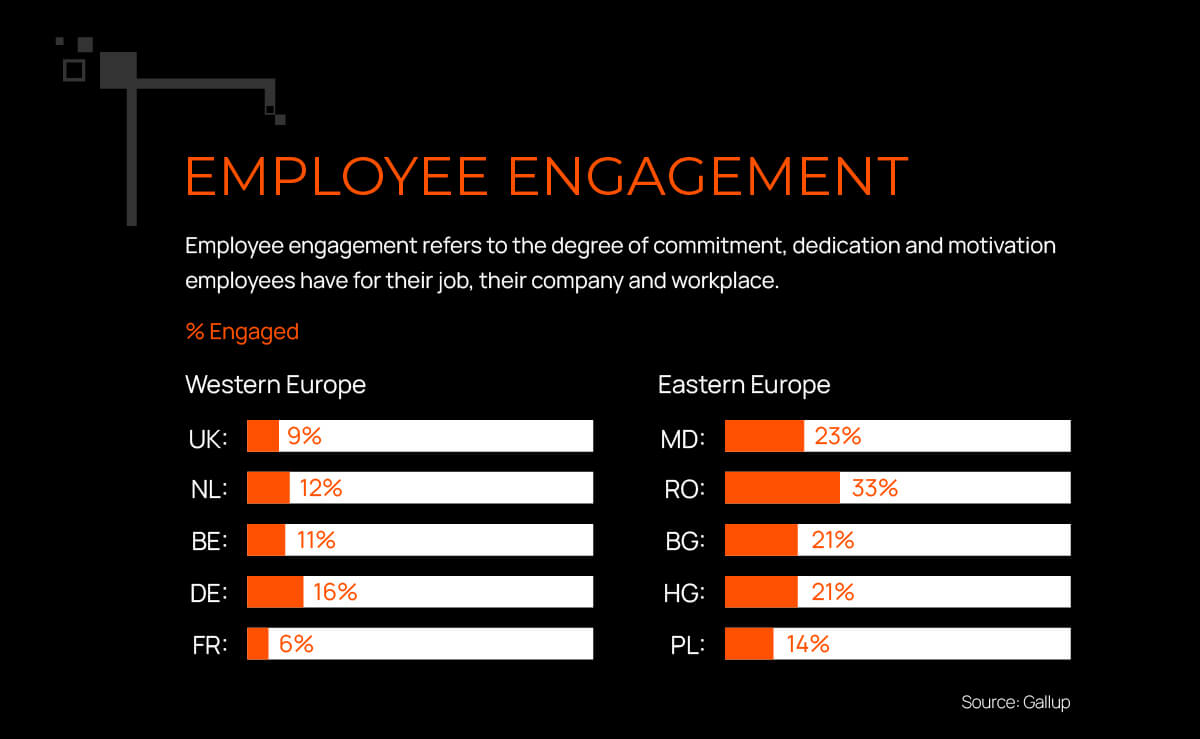 Life Evaluation
Life evaluation states the respondents that rate their current life as thriving, meaning that they perceive positively their present life situation and have positive views of the next five years.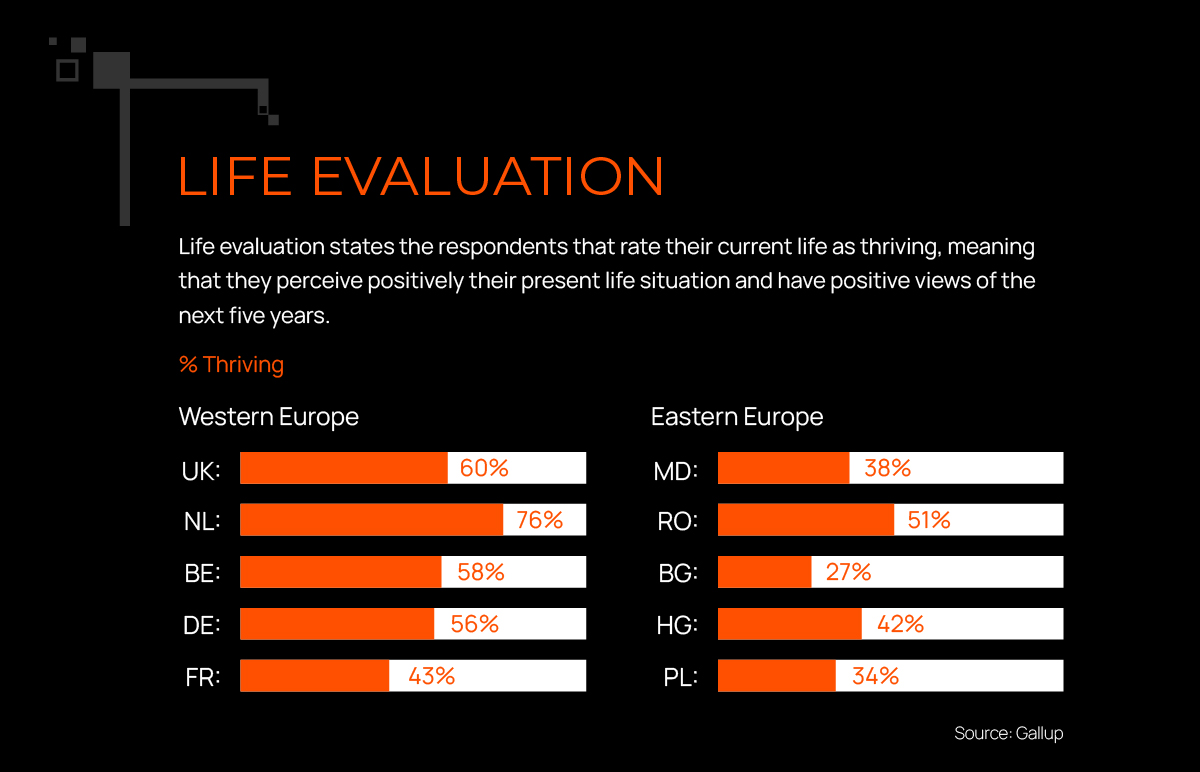 Daily Stress
Daily stress involves answers to the questions: 'Did you experienced stress during a lot of the day yesterday?' (Yes/No)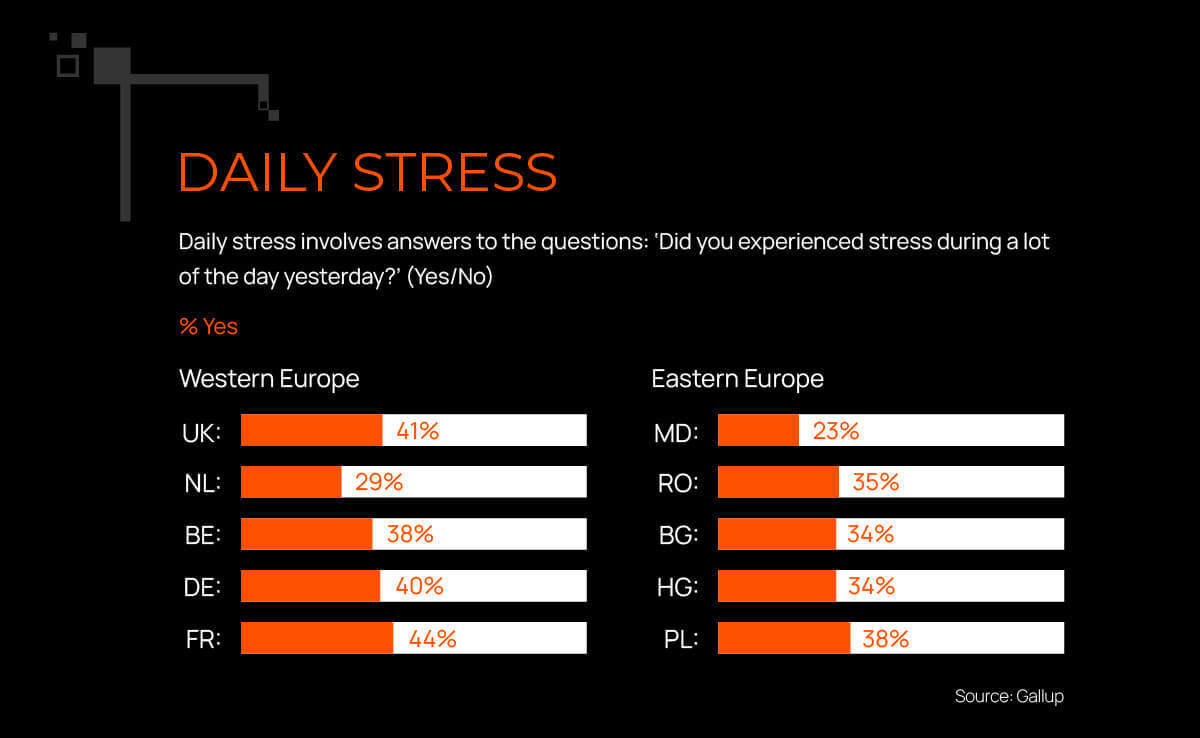 Daily Anger
Daily anger involves answers to the questions: 'Did you experienced anger during a lot of the day yesterday?' (Yes/No)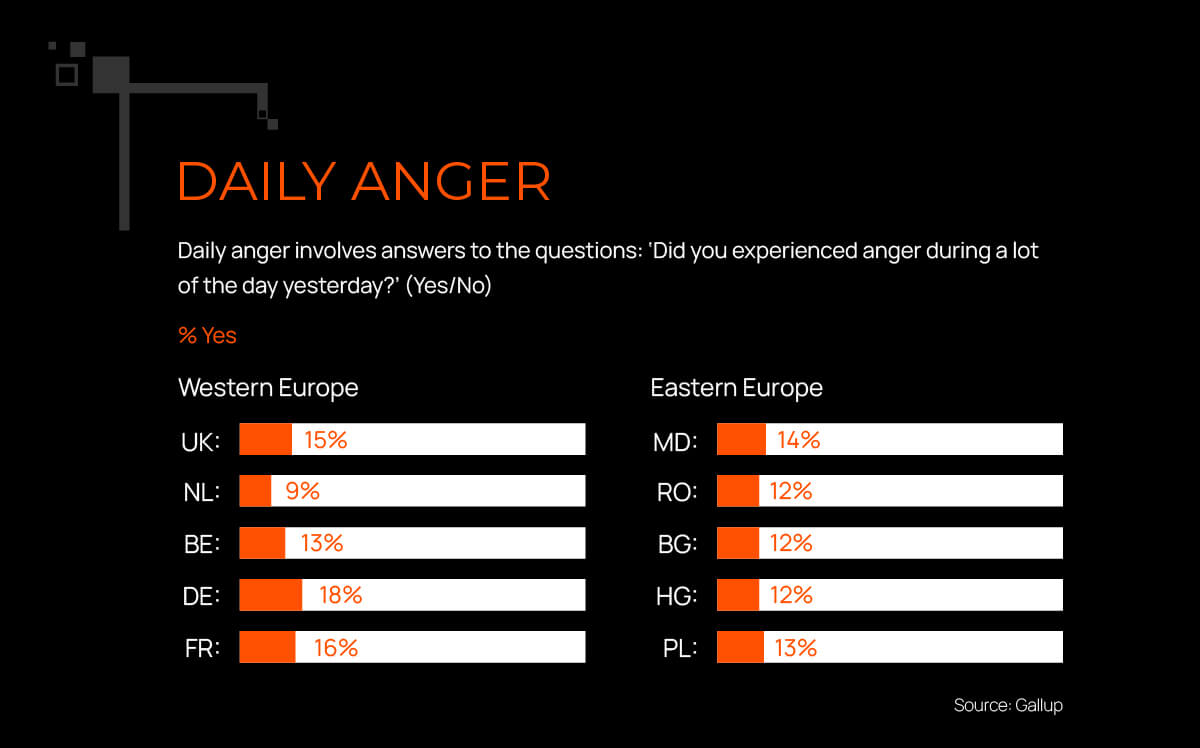 Relocation Potential
Relocation potential indicates the rate of respondents likely to move away from the city or area they are living in the next 12 months.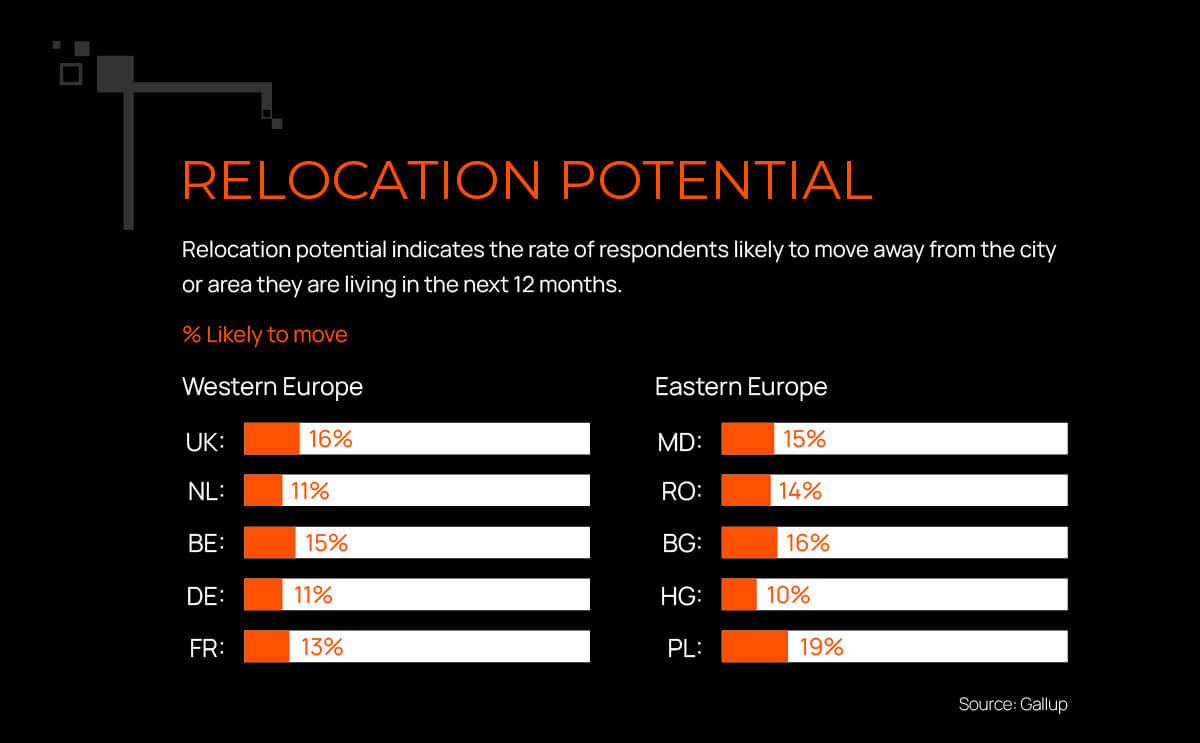 General overview
The Gallup report shows that overall, the differences between the Western and Eastern Europe are minor. When it comes to the engagement of employees in their job and company life, a higher degree of commitment is registered in the Eastern countries. At the same time, people from the Western Europe have more positive views about their life situation and evaluate it as more thriving. The survey also states similar daily anger and relocation potential values in both regions and a smaller amount of daily stress in the Eastern Europe.
These slight discrepancies are less visible in tech companies, as shown by the experience we have gathered during 15 years of successful collaborations with customers from Western Europe. Professionals from this field are usually driven by innovation, have an interest in discovering new cultures, and are motivated to invest in their self development.
Additionally, tech employers support these efforts by building empowering company cultures, including through motivational benefits and perks. Thus, nearshoring presents itself as an effective solution for companies struggling with finding local talents for their missions.
The most popular benefits and perks offered by tech companies in Moldova and UK
To dig deeper in the elements that break cultural frontiers, let's analyze the 2 countries from the above list that are geographically placed at the most Western and Eastern parts of Europe – Moldova and UK.
They both have a large talent pool, but when reported to the total number of employees in the country, Moldova has a 2 times higher rate of programmers and software development professionals in comparison with UK.
According to Statista, in 2021, the 465,700 programmers and software development professionals in UK were counting a 1,58% rate out of the total number of employees of 29,400,000 (as per November 2021). At the same time, the 24,400 programmmers and software developers from Moldova were representing 3,29% of the 739,589 employees counted in the country at the end of 2021.

Additionally, as can be seen below, the most common benefits and perks offered by tech companies in UK and Moldova are similar when it comes to health care, flexible hours, team events, snacks & drinks, entertainment activities (sports included). Annual leave days are granted by default in Moldova under the current law. Moreover, the IT sector is considered to offer competitive salaries on Moldova's marketplace.
Health care benefits
Retirement plan
Annual leave
Learning & development
Slacks & drinks
Flexible hours
Team events
Family benefits
Sport activities
Competitive salary
Coffee and refreshments
Team buildings
Foreign language classes
Flexible working hours
Entertainment activities
Gifts for special occasions
Bonuses for special occasions
Medical insurance
Additional annual leave days
CSR activities
Eastern Europe is a destination worth targeting by the Western European companies considering business solutions as nearshoring. Besides the professional and large talent pool, the region has cultural proximity with the Western countries. Tech companies, especially, come to the market with similar management styles, Agile ways of working, growth mindsets, contributing to the globalization of organizational cultures.
Moldova keeps the pace with the IT industry and brings to the table companies with strong workplace cultures, that encourage teams to innovate, develop, and grow professionally and personally.