When it comes to choosing a software development team for a project, making the right decision might be a real challenge. Between experienced developers, emerging technologies, budgets, deadlines and expected results, the real struggle in setting the wheels in motion might be to decide between hiring or outsourcing.
The results of a survey published by Gartner in September 2021 revealed that the IT executives defined the lack of talent availability as the most significant adoption barrier of emerging technologies. In a context where the same source forecasted that the worldwide IT spending should reach $4.4 trillion in 2022, the urging necessity of IT specialists is constantly increasing. Therefore, what about exploring new emerging regions with available software development teams, lower prices, convenient contracting terms, and growth opportunities, like the Eastern Europe?
Eastern Europe registered a fast development during the last years and became one of the main outsource choices of the Western stakeholders. And while countries as Romania, Poland, Bulgaria and Ukraine are usually top listed, Moldova is a flourishing ICT outsourcing destination worth exploring.
Moldova – a digital hub for tech companies
Moldova is located just in the neighbourhood of the European Union, within 1-3 hours from the main European hubs and with a local time zone that perfectly fits the schedules of countries from the EU to the Middle East. Recent data showed that the IT industry represented 3.6% of the GDP in 2020, with a volume of exports of ICT products and services exceeding $304 million.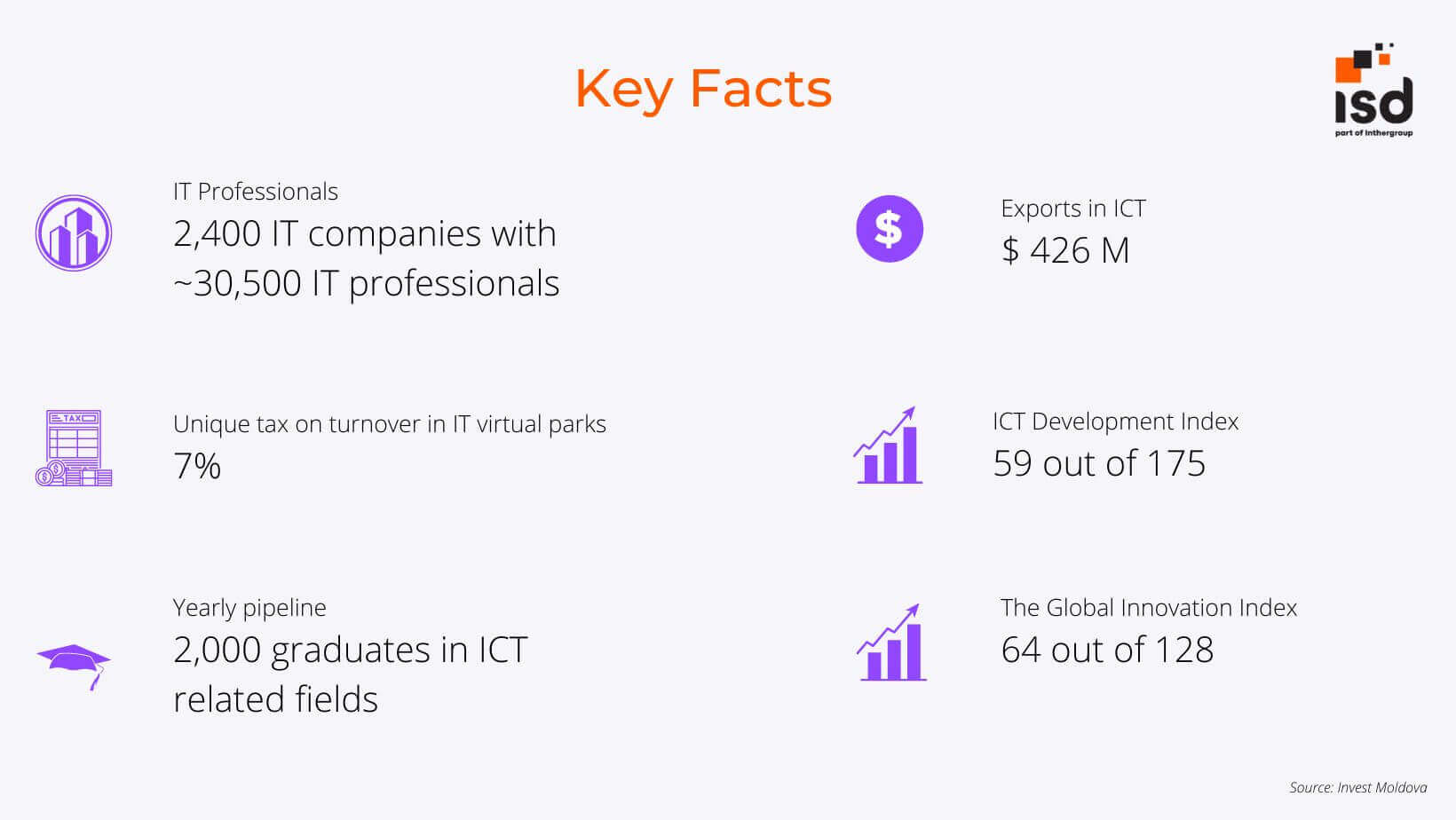 1.  Moldova Innovation Technology Park
IT Parks are a unique concept implemented in the Central and Eastern Europe, aimed at reducing tax burden, simplifying visa procedures, and creating virtual communities for IT companies.
Opened in 2018, Moldova IT Park gathers today 1,112 current residents and has a significant impact on the country's economy. During the 4 years of operation, the Park increased exports and the retention of qualified labor force. It has managed to create a stronger IT community, with companies and stakeholders that collaborate and communicate to boost the IT industry in Moldova.
The IT Park encourages companies to develop a wide range of tech related activities. According to the ICT Sector of Moldova White Book, 2021 edition, elaborated by the ICT Association of Moldova (ATIC), 50% of the residents' total income, in 2020, was generated by software development.
ISD was one of the first companies that joined Moldova IT Park in 2018.

2. Talents
Out of the about 30,500 ICT specialists currently working in Moldova (2,8% of the country's workforce), 80% have technical positions, including software engineers, QA's and testers, developers, product and project managers.
Yearly, 2000 ICT students graduate Moldova's universities, most of them being educated by the Technical University of Moldova (TUM).
Moreover, the strong collaboration established between companies and universities provides students with opportunities to learn and adapt to the market. Internships, like the ones on Front End, Java or PLC offered by ISD, play an important role in educating talents to keep up with the trends of the industry.
3. A dynamic IT community
The IT industry of Moldova is boosted continuously by several stakeholders and actors. Collaborations and actions carried on by and between ATIC, Tekwill, Moldova IT Park, companies and universities create a dynamic IT community.
ATIC is an Umbrella Organisation uniting 94 entities and representing the voice of the ICT sector of Moldova. It establishes partnerships between companies, similar organizations, government and state institutions and international organisations. ISD is one of ATIC's Associated Members.
Tekwill is one of the main ecosystem players in Moldova aimed to encourage innovation, nurture talents, and strengthen Moldova's workforce in tech. It has developed quality-driven programs for all levels of education through collaborations with companies and TUM.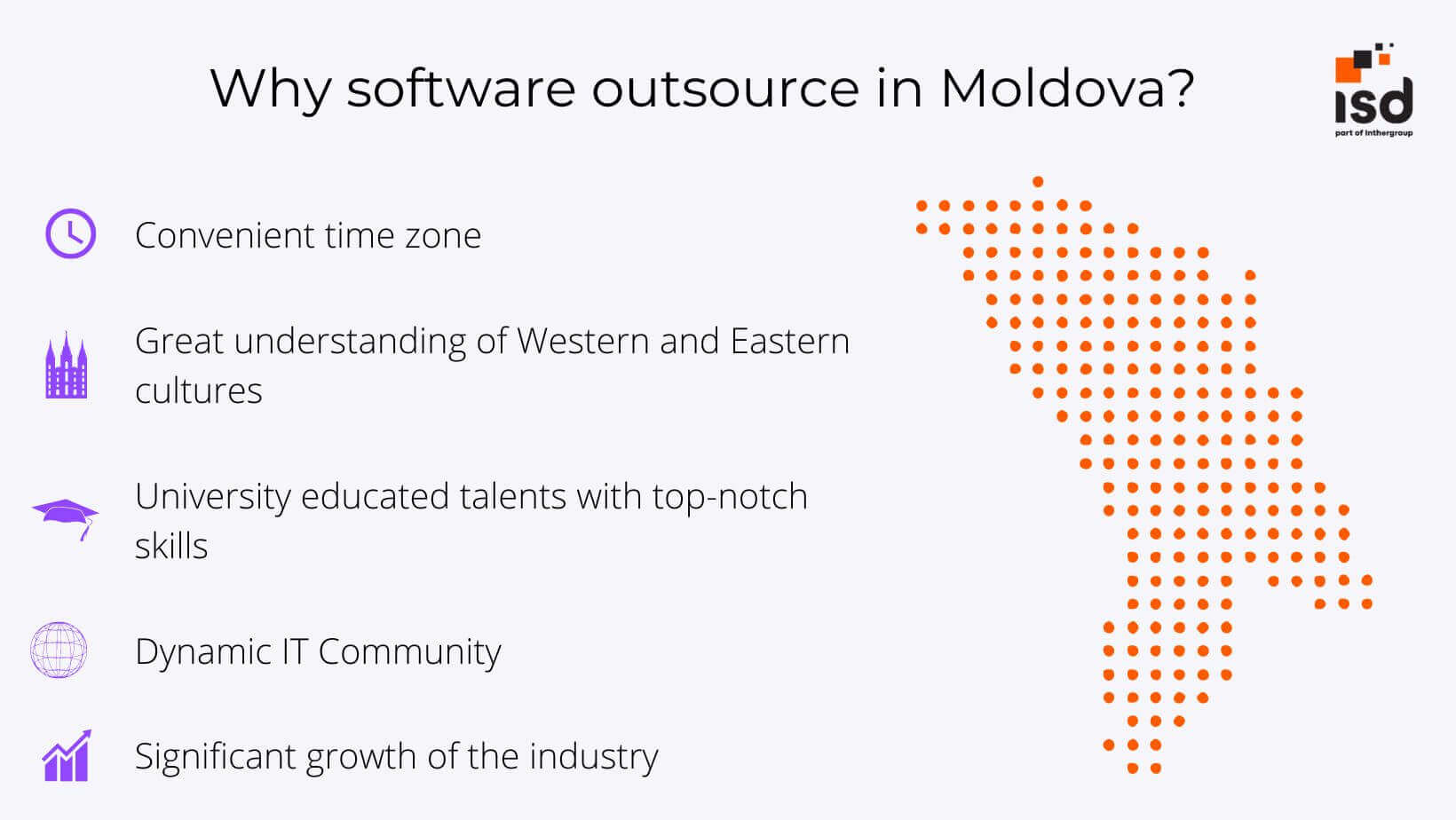 So, why is Moldova a great place to outsource?
Moldova has increased its ICT exports 10 times in the last 15 years and is currently ranked 59th out of 175 countries in the ICT Development Index.
Despite the pandemic, the industry registered a significant growth during the last years.
The country has a convenient time zone and people who have a great understanding of both Eastern and Western cultures.
University educated talents with top-notch skills.
ISD is an extensive outsourcing provider that is committed to creating a consistent customer experience alongside fostering an empowering environment for each team member. The company provides outsourcing services through dedicated teams, extended teams & fixed price. See our skills at https://isd-soft.com/skills.
ISD is member of Moldova IT Park and is an active partner of Tekwill & ATIC.