Case study: how Java technologies can improve your warehouse operations

We've been involved in lots of challenging projects.  In this article, we'll reveal the story behind building and optimizing the warehouse system of a big company.
Who we are
Over the years modern technologies have facilitated the process of warehousing and brought it to a new level. It's not only about revolutionizing things; it's about finding smart software solutions and getting the warehouse processes done (right and smooth).
Here is where "ISD" steps in. We call it "our software solutions hub" and for most of us it's the place where we turn our passion, knowledge and experience into great software. We are a team of young, talented Java professionals focused on innovation, product development and maintenance. Since 2008, we have been developing great software solutions for European companies like: Inther Group, DHL, Aldipress Swets, River Island and others.
About the project
Imagine that you own a big pharmaceutical company and have a large network of pharmacy stores, a strong distribution network, hundreds of employees, lots of business partners and customers. You have a vast warehouse capacity but warehousing system is not keeping up with the amount of work. What would you do? You will search for solutions, right?
Actually, the management of a big pharmaceutical company really had these issues. They approached ISD and asked for our help and expertise. After studying all the process, difficulties, challenges and all the other details, we started the work on a completely new WCS (warehouse control system). We were determined to change the way their warehouse system works, and we did it.
How we have actually built the software solution?
Interaction: we were constantly in touch with our client, getting his feedback, defining the specifications and requirements together. Generally the management of a company doesn't exactly know how to start and what to do: here is where we can help.
Technology: having a solid experience in Java, we created the project using these reliable frameworks: Spring, JPA, Hibernate, Camel, JaxRS, Maven, JUnit, SLF4J and other technologies. We've used Spring as the main development framework to build a high decoupled and secure system. As ORM framework we've used Hibernate to link domain model with database structure. We've chosen a free RDBMS PostgresSQL to reduce the total cost of the project. Our system is a distributed application that is comprised of multiple modules which makes our software easy to maintain and reliable. The communication between modules is assured with JMS under Apache ActiveMQ broker. The integration with the host system is implemented through REST APIs. The application offers a user friendly interface (accessed through a web page) which offers the possibility to monitor and control the system. We've used Maven (with custom goals) to speed up de development process. The combinations of all these frameworks and tools gave us the possibility to deliver a reliable and complex software solution in a reasonable period of time.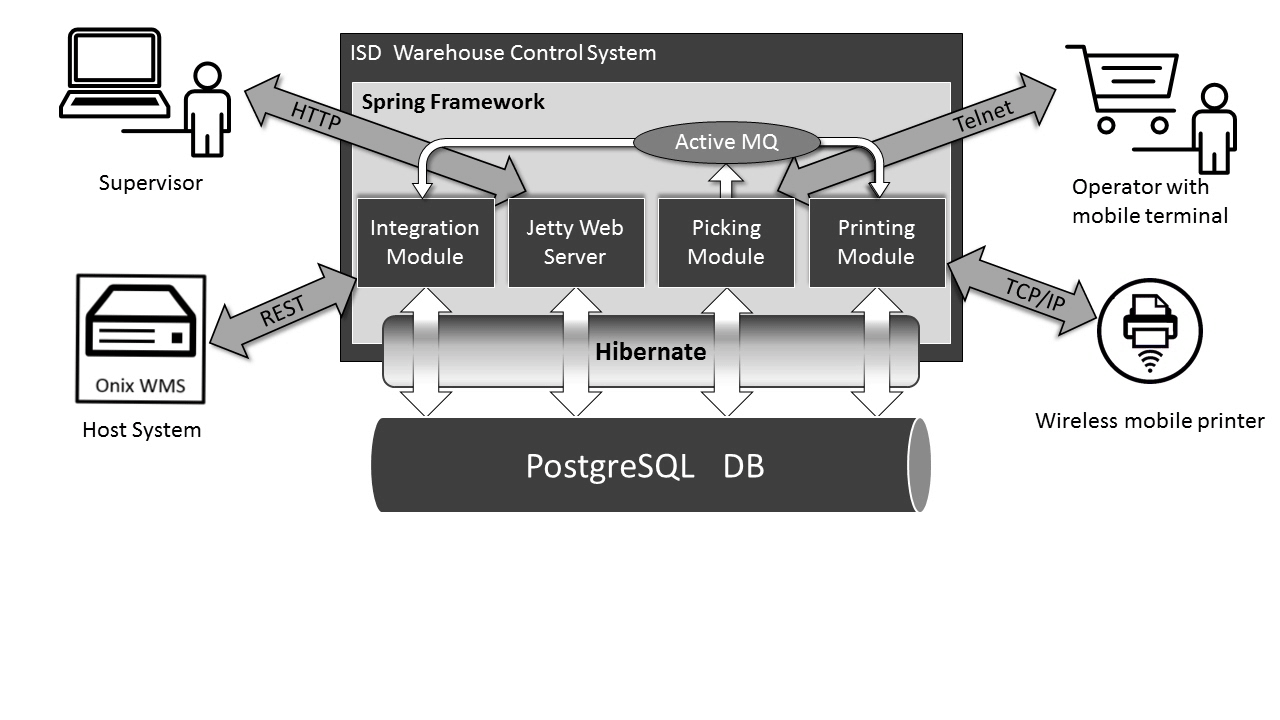 Productivity: we love Agile methodology and, of course, we used it for this project. The software solution was actually delivered sequentially and the customer had been testing certain features before the whole system was ready. We've made an investigation to measure the achievements after the implementation of picking automation software. The calculation is done for one average day of work. According to these numbers: the efficiency increased by 25% and we see a huge decrease of picking errors, by 95%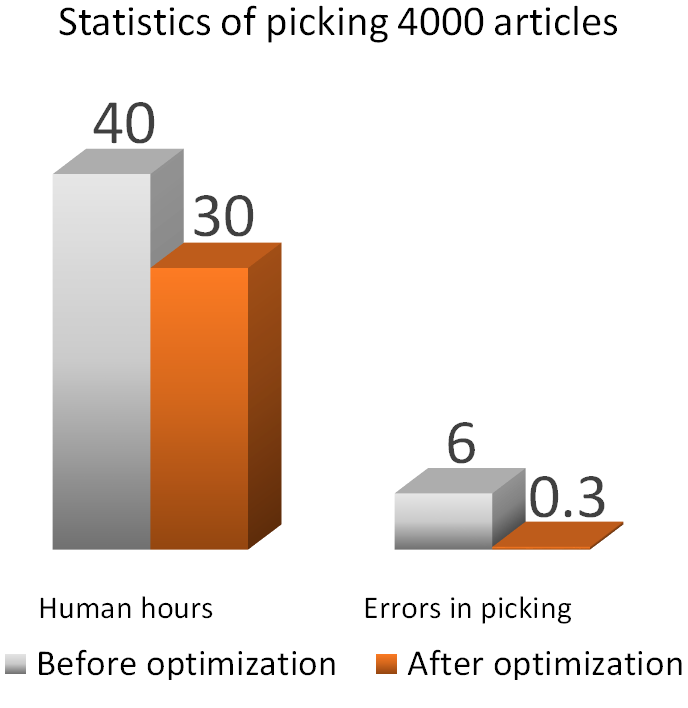 Flexibility: the system is expandable and is ready for new features and optimizations, for example SMS or email notifications when some products are out of stock. The possibilities are really impressive.
Maintenance: we are not only delivering the software solution but are constantly maintaining it, resolving possible issues and implementing new features. We care about the success of our clients as of our own.
What has the client achieved?
This is probably the most interesting part, as we can see what the actual output of our work was and what were the results and benefits for the client:
Full control over the warehouse operations
95% decrease in frauds and picking errors
25% more efficient workflow and faster orders
Precise estimation of work volume, available stock, top orders, notification system, statistics, user friendly web interface and much more.
Administrative data = physical data
Workforce optimization
Satisfied customers and business partners
The process before ISD
The old process of warehousing at this company looked like this:
A supervisor defines a vast list of pharmaceutical products (on a hard paper) and passes it to the operators
An operator is walking to certain areas within warehouse to identify the products
Once he gets there, he compares the product name on the shelf with the one on the list, takes the amount of products he needs and places the products in special boxes. Finally, he passes the order to logistics department
Disadvantages: no synchronization within the process, no monitoring, the orders are difficult to set up and the delivery is slow.
The process after ISD
The new software solution delivered by ISD changed the way people work in the warehouse. The picking process is smooth and efficient and looks like this:
A supervisor has a web interface where he can see all the orders. He is capable to see the statistics, set up priorities and evaluate the volume of work for operators and assign new tasks
An operator picks up a wearable device (Ex. Motorola WT4090 wearable terminal) and reads the instructions which guide him through the whole process (step by step). No advanced knowledge is needed; the software is easy to use and intuitive
He scans the bar codes of the products and places them in boxes (the software has all the information about the name of the product, quantity, availability, etc.). Finally, he passes the order to logistics department
Conclusion
It was a challenging and interesting project for all of us. We helped our client to optimize the warehouse system and reach all his objectives. Everyone is happy with the results, the quality of work, the time of execution and costs. Currently, we continue to support the software and implement new features. There is still room for growth, so we are willing to make it even better.
Case study: hoe Java-technologieën uw magazijnprocessen kunnen verbeteren

We zijn betrokken geweest bij veel uitdagende projecten. In dit artikel zullen we het verhaal achter het bouwen en optimaliseren van het magazijnsysteem van een groot bedrijf onthullen.
Wie wij zijn
In de loop der jaren hebben moderne technologieën het opslagproces vergemakkelijkt en naar een nieuw niveau gebracht. Het gaat niet alleen om zaken drastisch te veranderen; het gaat ook over het vinden van slimme software-oplossingen en het snel en simpel voltooien van de magazijnprocessen.
Hier is waar "ISD" aan bod komt. We noemen het "onze software oplossingen hub" en voor de meesten van ons is het de plek waar we onze passie, kennis en ervaring in omzetten in geweldige software. Wij zijn een team van jonge, getalenteerde Java professionals gericht op innovatie, productontwikkeling en onderhoud. Vanaf 2008 hebben we geweldige software-oplossingen gemaakt voor Europese bedrijven zoals: Inther Group, DHL, Aldipress Swets, River Island en anderen.
Over het project
Stel je voor dat je een groot farmaceutisch bedrijf bezit met een groot netwerk aan apotheek winkels, een sterk distributienetwerk, honderden medewerkers en veel zakelijke partners en klanten. Je hebt een enorme opslagcapaciteit, maar het warehousing systeem kan de hoeveelheid werk niet bijhouden. Wat zou je doen? Je gaat op zoek naar oplossingen, toch?
De waarheid is dat de managers van een groot farmaceutisch bedrijf werkelijk met dit probleem zaten. Zij benaderden ISD en vroegen om onze hulp en expertise. Na het bestuderen van alle processen, problemen, uitdagingen en alle andere details, zijn we begonnen aan een volledig nieuw WCS (warehouse control systeem). We waren vastbesloten om de manier waarop hun warehouse systeem werkt te veranderen, en dit deden we.
Hoe hebben we de software oplossing ontwikkeld?
Interactie: we waren constant in contact met de klant om zijn feedback te ontvangen, zodoende hebben we dus samen de specificaties en de eisen gedefinieerd. In het algemeen weet het management van een bedrijf niet precies hoe er begonnen dient te worden: hier is waar wij kunnen helpen.
Technologie: wegens het hebben van een solide ervaring in Java, hebben we het project gemaakt met behulp van de volgende betrouwbare frameworks: Spring, JPA, Hibernate, Camel, JaxRS, Maven, JUnit, SLF4J en nog enkele andere technologieën. We hebben Spring gebruikt als het belangrijkste ontwikkelingsframework om zo een high decoupled en veilig systeem op te bouwen. Als ORM framework hebben we Hibernate gebruikt om het domein model te koppelen aan de database structuur. We hebben gekozen voor een gratis RDBMS PostgresSQL om zo de totale kosten van het project te verminderen. Ons systeem is een gedistribueerde toepassing die weer bestaat uit meerdere modules om ervoor zorgen dat de software makkelijk te onderhouden en betrouwbaar is. De communicatie tussen de modules wordt verzorgd door JMS onder de Apache ActiveMQ broker. De integratie met het host-systeem is geïmplementeerd via REST API's. De applicatie biedt een gebruiksvriendelijke interface (toegankelijk via een webpagina), die de mogelijkheid biedt om het systeem te controleren en te beheersen. We hebben Maven (met aangepaste goals) gebruikt om het ontwikkelingsproces te versnellen. De combinatie van al deze frameworks en tools gaf ons de mogelijkheid een betrouwbaar en complexe software-oplossing te leveren in een redelijke tijdsperiode.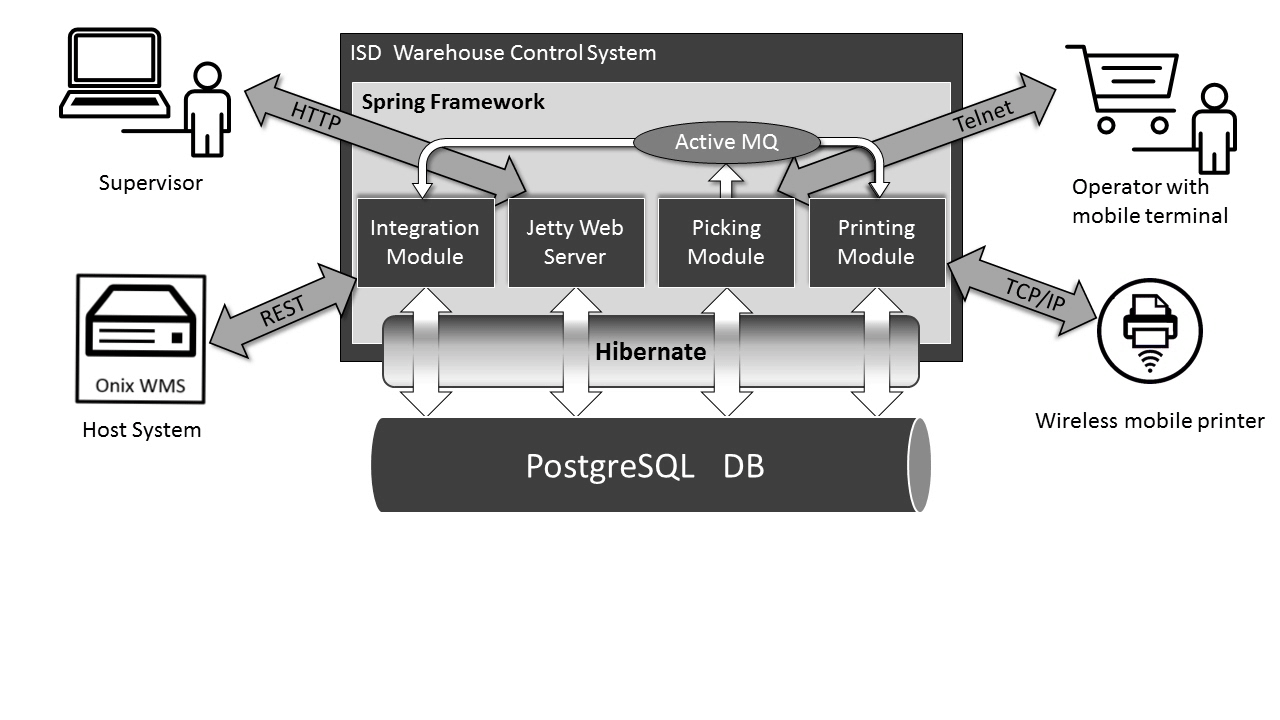 Productiviteit: wij houden van Agile methodologie en, uiteraard, hebben we dit gebruikt voor het project. De software-oplossing was feitelijk in fases geleverd, wat de klant in staat stelde om bepaalde features te testen voordat het hele systeem klaar was. We hebben een onderzoek naar de resultaten gedaan nadat we de picking automatiseringssoftware geimplementeerd hadden, om zo te zien wat het opgeleverd had. De berekening wordt gedaan voor een gemiddelde werkdag. De volgende cijfers kwamen uit het onderzoek: de efficiency is verhoogd met 25% terwijl we een grote daling in fouten tijdens het picken zagen; namelijk 95%.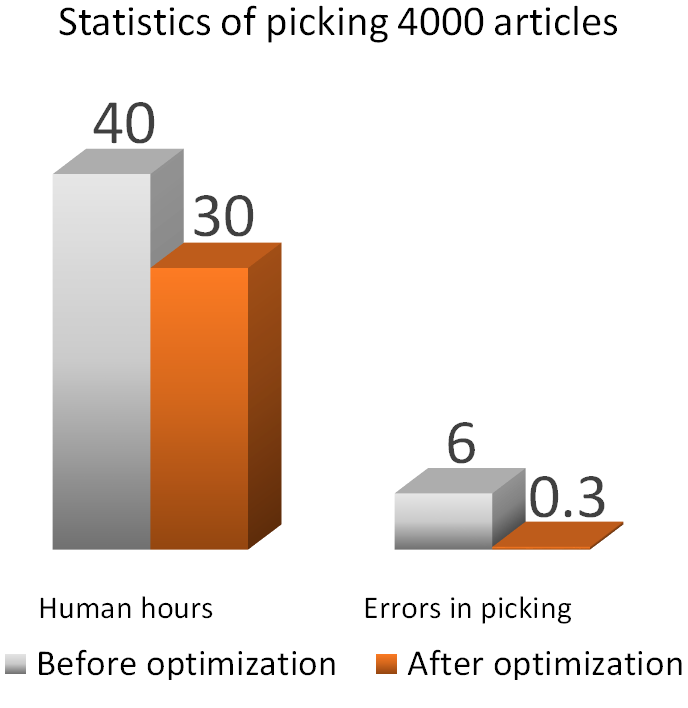 Flexibiliteit: het systeem is uitbreidbaar en is klaar voor nieuwe functies en optimalisaties, zoals bijvoorbeeld SMS of e-mail notificaties wanneer sommige producten niet op voorraad zijn. De mogelijkheden zijn echt indrukwekkend.
Onderhoud: we zorgen niet alleen voor de oplevering van de software-oplossing maar zorgen ook voor continue onderhoud hieraan. Dit stelt ons in staat om mogelijke issues op te lossen en nieuwe functies te implementeren. Wij zien het succes van onze klanten dan ook als onze eigen successen.
Wat heeft de klant bereikt?
Dit is waarschijnlijk het meest interessante gedeelte, omdat we hier kunnen zien wat de werkelijke opbrengst van ons werk was, en wat de resultaten en voordelen van de klant waren:
Volledige controle over de warehouse-activiteiten
95% afname van de pickfouten
25% efficiëntere workflow en sneller bestellingen
Nauwkeurige schatting van werkvolume, beschikbare voorraad, belangrijkste orders, meldingssysteem, statistieken, gebruiksvriendelijke webinterface en nog veel meer.
Administratieve gegevens = fysieke gegevens
Workforce optimalisatie
Tevreden klanten en zakelijke partners
Het proces voor ISD
Het oude proces van de opslag bij dit bedrijf zag er als volgt uit:
Een supervisor definieert een uitgebreide lijst aan farmaceutische producten (op karton) en geeft dit door aan de operators.
Een operator loopt naar bepaalde gedeeltes in het magazijn om de artikelen te identificeren.
Zodra hij daar is zal hij de artikelnamen op het schap gaan vergelijken met de artikelnamen van de lijst, waarna hij het benodigde aantal zal pakken en de artikelen in speciale dozen zal doen. Tenslotte, zal hij de order doorgeven aan de logistieke afdeling.
Nadelen: geen synchronisatie binnen het proces, geen monitoring, de orders zijn moeilijk op te zetten en de levering is traag.
Het proces na ISD
De nieuwe software-oplossing die door ISD geleverd is heeft de werkwijze van de mensen in het magazijn veranderd. Het pickproces verloopt nu soepel en efficiënt, en ziet er als volgt uit:
Een supervisor heeft een webinterface waarop hij alle order kan zien. Hij heeft de mogelijkheid om statistieken te zien, prioriteiten vast te stellen, het werkvolume voor de operators te evalueren en de operators eventueel nieuwe taken te geven
• Een operator zal een draagbaar apparaat pakken (bijv. Motorola WT4090 draagbare terminal) en daarop de instructies aflezen die hem stap voor stap door het hele proces leiden. Er is geen gevorderde kennis nodig want de software is eenvoudig te gebruiken
• De operator scant de barcodes van de artikelen, waarna hij de artikelen in dozen zal plaatsen (de software beschikt over alle informatie met betrekking tot de naam van het artikel, aantal, beschikbaarheid, etc.). Tenslotte, zal hij de order doorgeven aan de logistieke afdeling.
Conclusie
Het was voor een uitdagend en interessant project voor ieder van ons. We hebben onze klant geholpen om het magazijn systeem te optimaliseren en hebben zodoende al zijn doelen bereikt. Iedereen is tevreden met de resultaten, de kwaliteit van het geleverde werk, de uitvoertijd en de kosten. Op het moment onderhouden we de software nog altijd, waarbij we soms ook nieuwe functies implementeren. Er is nog altijd ruimte om te groeien en we streven er dan ook naar om het nog beter te maken.