Insights from Arina Caraus and Daniel Moraru, graduates of the 2022 edition
Between June 13 – July 8, 2022, ISD has hosted 7 interns for a PLC internship program. We have talked to two of them about their experience with us, thoughts about pursuing a career in the field, importance of PLC in the future and many more.
Arina Caraus is a 2nd year student at the Technical University of Moldova, the Faculty of Computers, Informatics and Microelectronics. She found out about the internship program while scrolling on Facebook. PLC got her curious and she decided to give it a try.
Daniel Moraru, on the other hand, has graduated, in 2021, the specialty of Robotics and Mechatronics of the same faculty and university and has already started a career in PLC. He was willing to join ISD and has decided to enroll in the program as a first step of his journey with the company. At this moment, he is already one of our colleagues.
What motivated you to apply to this program?
Arina Caraus (A.C.): I didn't know much about PLC, but the catchy design of the Facebook post motivated me to look for what is means and involves. I got an interest in trying something new, that is close to Arduino, but it is at a higher and industrial level.
What did you learn during the internship?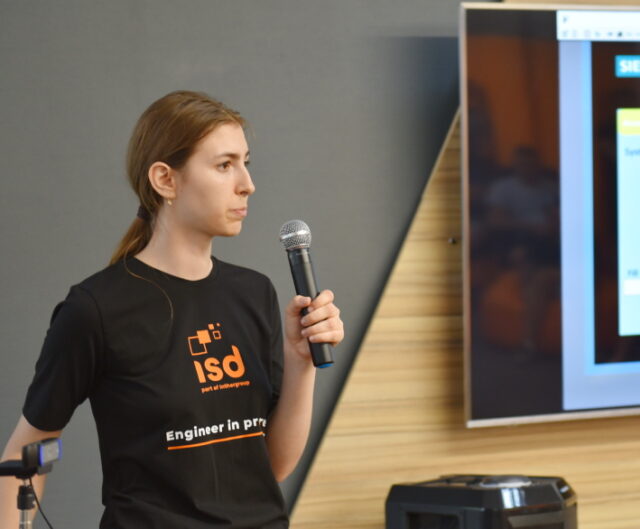 A.C.: I have learned a lot. Starting with how to turn on the conveyor, how does Ladder Logic work, and continuing with all the parts of the process. We learned everything step by step. Now, when I am walking on the streets of Chisinau, I see the city differently.
Daniel Moraru (D.M.): I have learned a lot about what it is like to work in a team. At my previous job, I was working alone on the related projects, writing the code, and acting as I was considering necessary. But here, we had tasks divided from the start, and at a certain point, we had to communicate with each other. The process helped me learn what is the correct structure of a project and to develop teamworking skills.
What did you like the most during the internship?
A.C.: I liked the environment and the people that I found in the company. When people you are working with are ready to help, to guide you and are telling you: "You can do it!", it's just wow.
D.M.: I liked that we were free to use our imagination for finding solutions to the tasks. We were checking everything with our mentors, of course, receiving feedback and adjusting everything accordingly, but we were not limited in our actions. I also liked to work with my colleagues – I could learn something from each of them, no matter if they had experience or not with PLC.
Do you think that the internship was useful for your career? Why?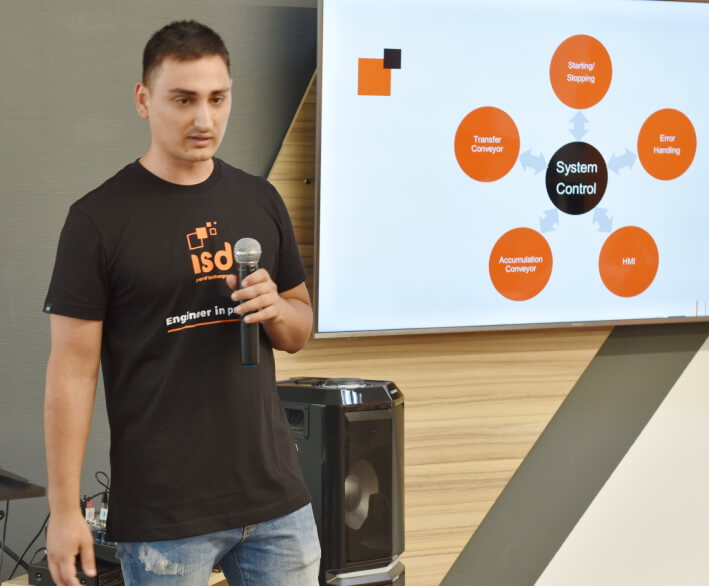 A.C.: Yes, I do. My perception of the world has changed. Even more, I collaborated with amazing people here, and I am sure that the relations I established here will help me grow further. I have also realized that you must always keep learning, at and outside the university.
D.M.: Yes, I do. Before coming here, I was thinking that the program was going to be a waste of time, because I had the experience of participating in another internship, some time ago, where we were just having trainings to learn the basics of the programming language. But here, our mentors presented from the first day the conveyor, the tasks and we worked on them. It was a great and useful experience not just for me, but also for the colleagues that were just discovering PLC.
Would you like to pursue your career in PLC?
A.C.: I think, at least, I am going to try. Everything is possible.
Do you think that PLC technologies are important for the future?
A.C.: I think they are, because everything gets automated and more and more fields will implement them. It is interesting and important, at the same time.
D.M.: Yes, of course. This is the reason I have decided to pursue a career in the field. I am sure that at some point, factories will give up to the human factor, because it is inclined to make mistakes, it gets ill, or you must have it stay home, as happened during the Covid-19 pandemic.
What are the resources you use to learn more about this field?
A.C.: Books, the information we have available online. I take courses on Udemy, or Coursera and I receive weekly mails with updates from Inst Tools.
D.M.: I learned PLC from Youtube, the greatest of the teachers – as I like calling it. It is my first source of information, because it allows me selecting what I find useful and what I don't. I also use information from the TIA Portal or Google.
What would students need to develop in the field of PLC?
A.C.: I think that students are afraid of making mistakes or putting into effect what they learn. But PLC joins software with hardware, and you have to mix them, and push the button to see if what you are doing is working or not. In my opinion, students need more of this practical side, which means resources or labs where you can experiment everything you are learning.
D.M.: I think they just need to learn about what is PLC and if they get an interest in it, they will find by themselves the right way to grow in the field.
Would you recommend to your friends to make a PLC internship at ISD?
A.C.: Yes, for sure and I think some of my friends would be motivated to try.
D.M.: Yes. Why not? I invited some of them to apply even before I got here.