"Because in the end, you won't remember the time you spent working in the office or mowing your lawn.
Climb that goddamn mountain."
Jack Kerouac
Genesis
  In July 2018, while hiking Ciucaș Mountains in Romania, a friend of mine recommended me to try Ceahlău, one of the easiest mountains to hike. At that time I was looking for an easy hike, as my plan was to take my family with me.
  Since I am responsible for Healthy Life Style at ISD, I've decided that it would be a good idea to organize such an event with my colleagues as well. We had wanted to do it last year, but due to many different reasons, we had to postpone it. So, this summer we were ready and it was just a matter of time.
  The Ceahlău Massif is one of the most famous mountains of Romania. While the highest peak is Ocolaşul Mare (1907 m altitude), it is not reachable by normal hike, so we have set our destination to the second highest peak Toaca (1904 m altitude).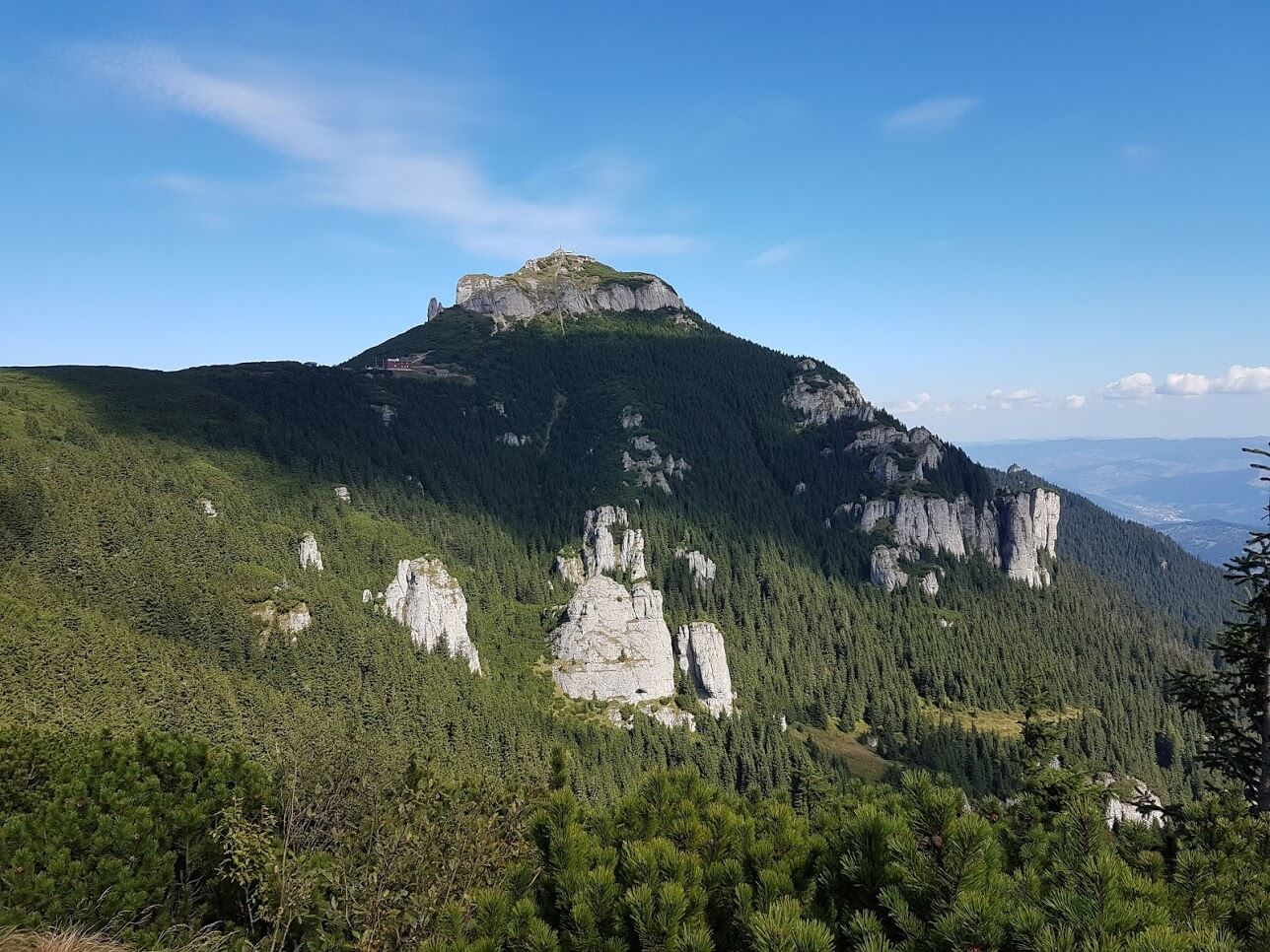 Toaca (1904m altitude)
  Although, there was a chance of rain during the hike day, there were 7 of us who decided to go for the summit: Alexandru Bezu, Ion Pascari, Constantin Harea, Ion Bostan, Anna Arhirii, Radu Corlateanu with his wife and 2 children (9 months old son and 2 year old daughter), me (Eugeniu Serbaniuc) with my wife and our 2 year old daughter.
  Besides Radu and me, nobody else has had hiking experience, so this was supposed to be their first summit ever.
Preparations
  Even though we had the possibility to rent a house near the camping zone, we decided from the start, that we would sleep in tents and prepare food in camping conditions, using special stoves and gas tanks… this is something which adds more challenge to the event. I knew it could be a bit difficult with a child, but I definitely decided to go for it and it really has worthed it!
  After renting all the necessary equipment, we were ready for this amazing adventure.
Day 1, Friday, 14 September
  Start point: Chisinau;
  End point: Camping zone near Guest House Izvorul Muntelui;
  Distance: 340 km;
  Number of cars: 5.
  We have decided not to wait for each other, as there was a different speed limit on each car.
Ion Pascari (the early bird)
  When we had hit the road to Romania it was pretty early, so me and my friends were ahead of everybody by a good distance.
  Also taking into account the fact that we were driving pretty fast and did fewer stops comparing to the guys who had kids, we arrived at the destination first.
  As this experience was something new to us, especially camping, we rushed to unpack everything and set up our tents so we could wait peacefully and gracefully for others while enjoying a beer and some good talk.
  First, we had checked for camping permission and once we got an approval, we headed for the equipment. Everyone got a tent for two persons, which was quite easy to assemble, you just had to get two crossed sticks under the tent's special rings and voilà! – the tent is ready.
  But not me, I got a tent for extreme weather for 3 persons and God was it hard to assemble! We unpacked everything and kept staring at the pieces and details that had to fit together according to the instruction for like 10 minutes. But c'mon, we are bloody programmers, we can do this! So we had started slowly assembling all the small things until we got something slightly resembling a tent, after 15 minutes we got our tent set up. Nice, right?
  By the time that we have gotten three tents set up and everybody got their beers out, the other team members had arrived. First came Constantin, Anna and Alex, and shortly after them Ion, Eugen and his family. And the last, but not least, was Radu, who started the trip way later than all of us. And guess what our surprise was when we found out that we had set up our camp in the wrong place?
  We had to camp in a special camping area… I mean, God why?! Anyway, after 30 minutes of dealing with all that tent assembling, everybody had to disassemble everything and move to the new area, such a pity… Of course, I was smart and lazy enough not to disassemble the tent, so we carried the assembled tent by hand to the new place. While moving and rearranging our tent, we managed to break it… a 200 euro tent… for which we had to pay if something happens to it… It was infuriating, but it was a lesson we've learned the hard way, so: Lesson 1. Never rush in the mountains! Wait for the others.
Alexandru Bezu (the co-driver)
  Our trip has already begun with an adventure. Somewhere in Nisporeni, we've made a wrong turn. Thank you Google Maps for that. After cruising around on the hills of Nisporeni for approximately 15 minutes, we got back to the main road, pushing our car close to its limits, of course, without violating the traffic code.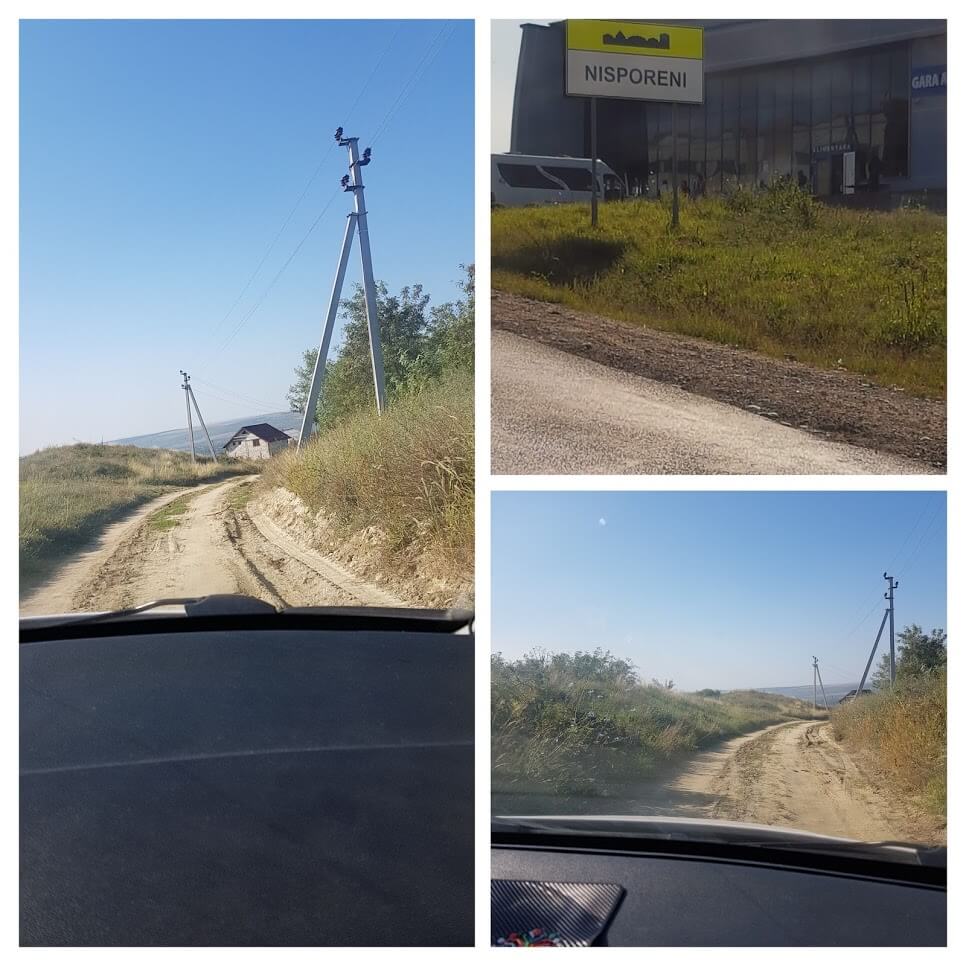 Shortest path, huh?
  In less than 3 hours, we were in Iasi, ready to buy the equipment that we couldn't find in Chisinau. And thank God for that. The price for buying some things at Decathlon (a sports equipment store), came out lower than the one my colleagues had to pay to rent them (for 4 days) in Chisinau.
  After a 3-4 hours trip, we arrived at the destination: the camping spot, where some of our friends were already waiting for us.
Eugeniu Serbaniuc (the family man)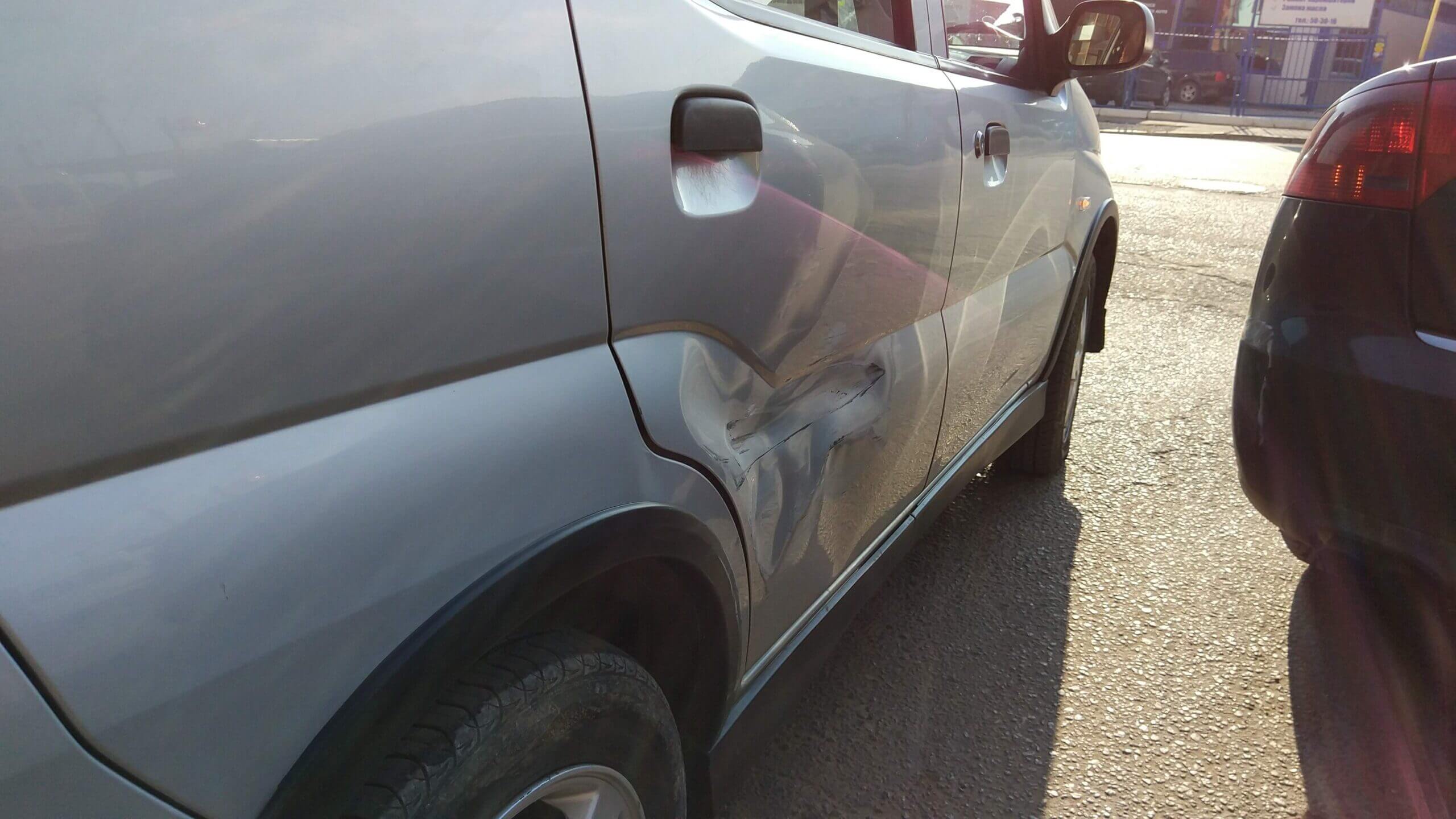 Our trip started with an 1h delay. This is something usual when you travel with a child. But this time it was caused by a car accident, that Ion Bostan had while driving to my place. It happened just near the building where I live, so, while getting there, I had different scenarios in my mind and one of them was "cancelation… again". Thank God, there were only some small scratches on the door of the second car, so this was not a reason to cancel the trip. Phew…
  Even with this delay and some other unplanned (child related) stops, we've managed to get to the destination at around 18:00 and there still was enough sunlight, which gave us the possibility to take a look at the camping zone and decide where to set up our tents. We've chosen the place near a small waterfall, fantastic, isn't it? That's something the first group had missed.
  It took us around 1h to set everything up: tent, inflatable mattress, sleeping bags, flashlights. After that, we started to prepare our food using camping stoves that we had rented. The atmosphere was amazing, like at Bemol, but better 🙂
Camp dinner
Ion Pascari (the guy who learned the lessons)
  For dinner, we had pasta, that we had to boil in a metallic bowl. Everyone brought with them nice bowls with lids, designed for cooking pasta. But not me, I brought the first metallic thing I saw in the kitchen back at home, and there were no thoughts of bringing a lid of any kind. So, we poured some water into it, put it on the fire and started waiting for it to boil. We'd been staring at that bowl for almost 50 minutes and it still did not want to boil, so after almost an hour of being crazy hungry we turned the fire off, prepared some sandwiches and that was it. So: Lesson 2: Never bring a double walled metallic bowl for boiling water; they're not designed for that! Especially without a lid…
  Yeah, as dumb as it sounds – it took us some time to realize that a nice and warm dinner was out of the question for that night. Anyway, after the dinner, we started to celebrate. And that night we got pretty tired because we went to sleep very late.
This is the right way you prepare tasty dinner in camping conditions
Alexandru Bezu (moonshine agent)
  In no time, our tents were set up, and we were ready to cook a fast and hot dinner – spaghetti with canned fish. And If I may – that it was one of the best spaghetti's I've ever eaten in my life, and I'm not even exaggerating. In addition to that, after a good meal, there should always be good drink. A good homemade drink. Moonshine. Moldavian "țuică". Since we were close to the foot of the mountain, we felt the low temperature. However, the moonshine made its effect: hot inside – hot outside. The perfect remedy for chilly weather.
Night sky view
  When the night has arrived, that's when the real magic happened. The sky had no clouds, and no lights from big cities were distracting our eyes from the beauty of the night sky in the middle of nature. It was possible to see the whole Milky Way with the naked eye, and thousands of constellations that we usually don't see. I was not just impressed – I was mesmerized.
  Under such an outstanding view, the Friday evening had ended and we were ready for the next morning event.
Day 2, Saturday, 15 September
  They say that 4 hours of sleep in the freshness of the air in the mountains is worth 8 hours of regular sleep in your bed. Alex can confirm it. He woke up without a headache and was feeling fresh (even after a rough night).
  After an "all-inclusive" breakfast we've shared all the info regarding the track we had chosen and were ready for the ascent.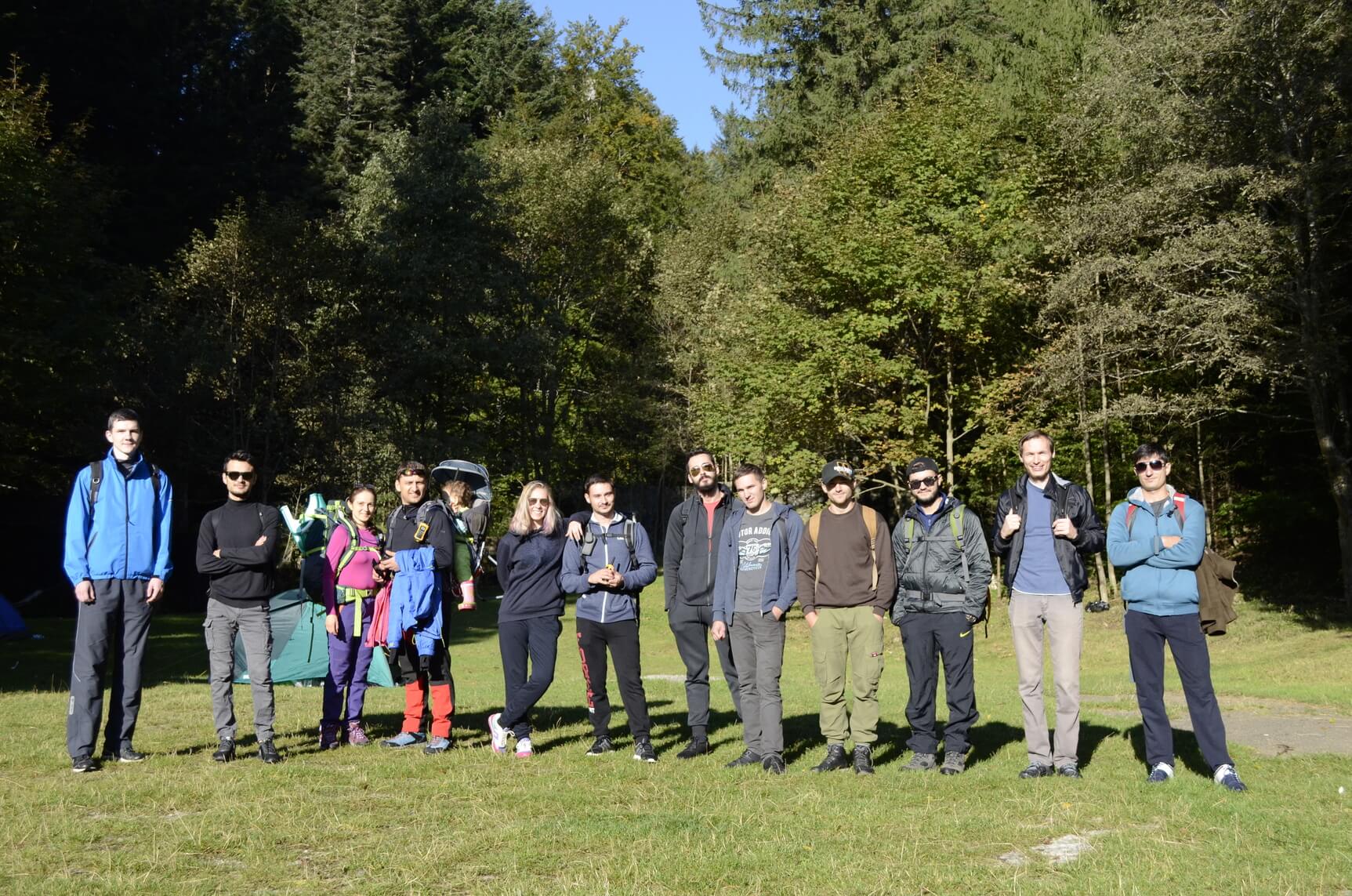 The base camp was located at 800m altitude. For the ascent, we have chosen to take a 5.3 km track, wherein about 3.5 h we should have reached Dochia Guest House (1760 m altitude) and from that point, 45 min to the Toaca peak (1904 m altitude). Pfff, easy!
  Radu and Eugeniu had rented backpacks specially designed to carry a child which made their children feel comfortable during the entire day.
  Radu had started the trip a bit later. He tried to cover a part of the route by car, which at some point crosses a different track that brings to the same destination.
Alexandru Bezu (only hard-core!)
  One cup of tea and two sandwiches for breakfast should be enough to climb that mountain and show it who's the boss. That kind of confidence was killed in no time, unfortunately. In just 30 minutes of hiking, almost everyone felt already pretty tired. However, that wasn't even ¼ of the whole track.
  At some point, the track split into two paths. The shorter, but harder one, or the longer but (probably) easier one. That's the point where our group was split in two. Just a few participants and I decided to try the hard track. Both of these tracks would lead us close to Dochia Chalet that was supposed to be our next meeting point.
  The beginning of the hard track was deceptive. It seemed to be just like a regular walk in the woods. If I only knew how wrong I was… The peak of the mountain seemed unreachable, and our first thought was that it is too far away for us to get even close to it.
  As we climbed up the path, the surroundings were getting even more beautiful than they were before. After a while, we had to cross a small river, stepping on a few logs. What could go wrong with that? Someone might fall into water you will say. Well, that is exactly what happened! Fortunately, that guy was the only one who had spare pairs of socks and a second pair of shoes. Now that's what I call intuition.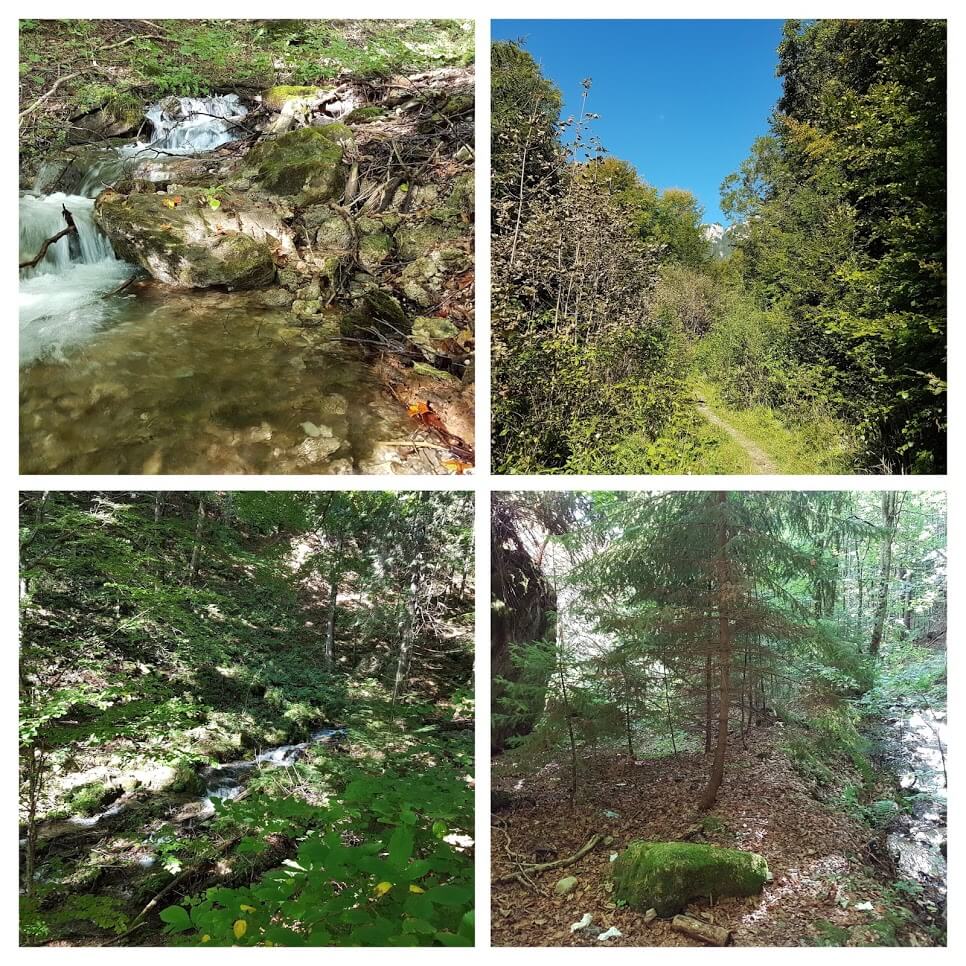 Views in the middle of the forest
  Advancing furthermore, as the altitude increased, the track became steeper. One wrong step could have been very painful. It was at that moment I knew… I messed up – the decision on choosing the fastest track wasn't the best one. One sign informed us that we had two more hours to Dochia Chalet, and my legs were already burning up.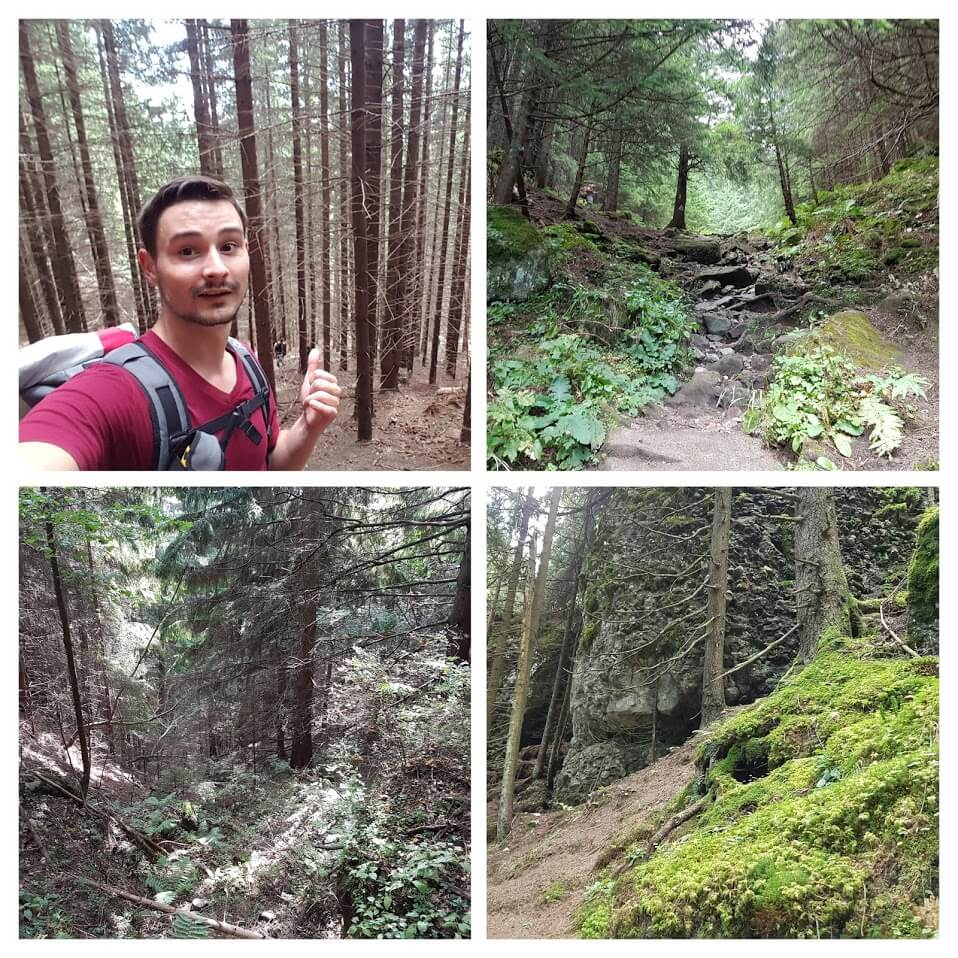 Steep hill in the middle of the forest
  Very soon though, everything changed. Less big trees and more rocks started to show up. A sign was telling us that we were a bit closer to the peak. That was one of the moments when all your regrets and muscle pain disappear. Being surrounded by small pine trees, our few minutes stops were mesmerizing. The view was worth our pain. As we ascended, the view kept mesmerizing us even more.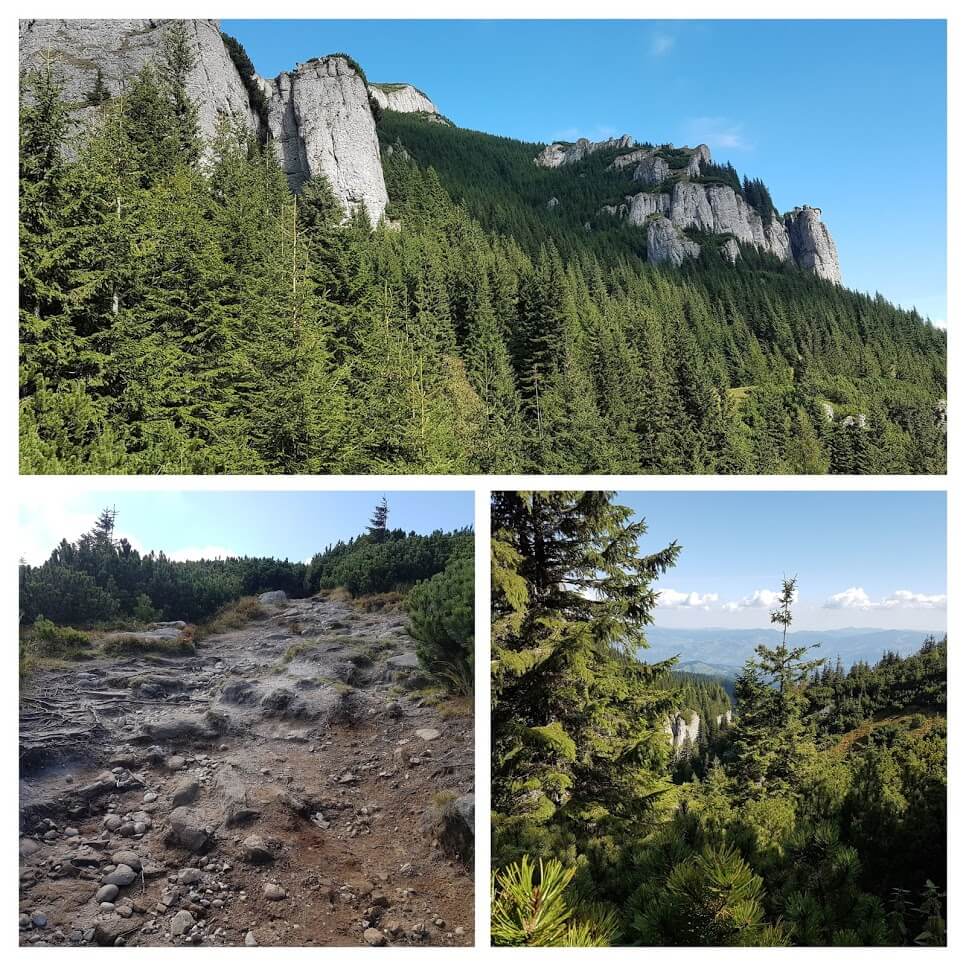 Views from a decent height
  At some point, when my leg muscles almost refused to work, we made it. We've reached Dochia Chalet. Our first point where we had to meet the rest of the group. After a small break, close to the chalet, using a two-way radio we've managed to talk with our colleagues, that had chosen the longer track. They knew that in the best case, they would have reached Dochia Chalet in an hour. Waiting for one more hour, when we were so close to the peak and the track leading to it is right in front of us? Hell no!
  In less than 30 minutes we were already at the foot of the top. 527 more steps and our main goal was achieved: we've got to the Toaca peak, where we had a modest, but very tasty lunch. So, it took us 4 hours. 4 painful hours. Was it worth it? It certainly was! Would I do it again? Of course!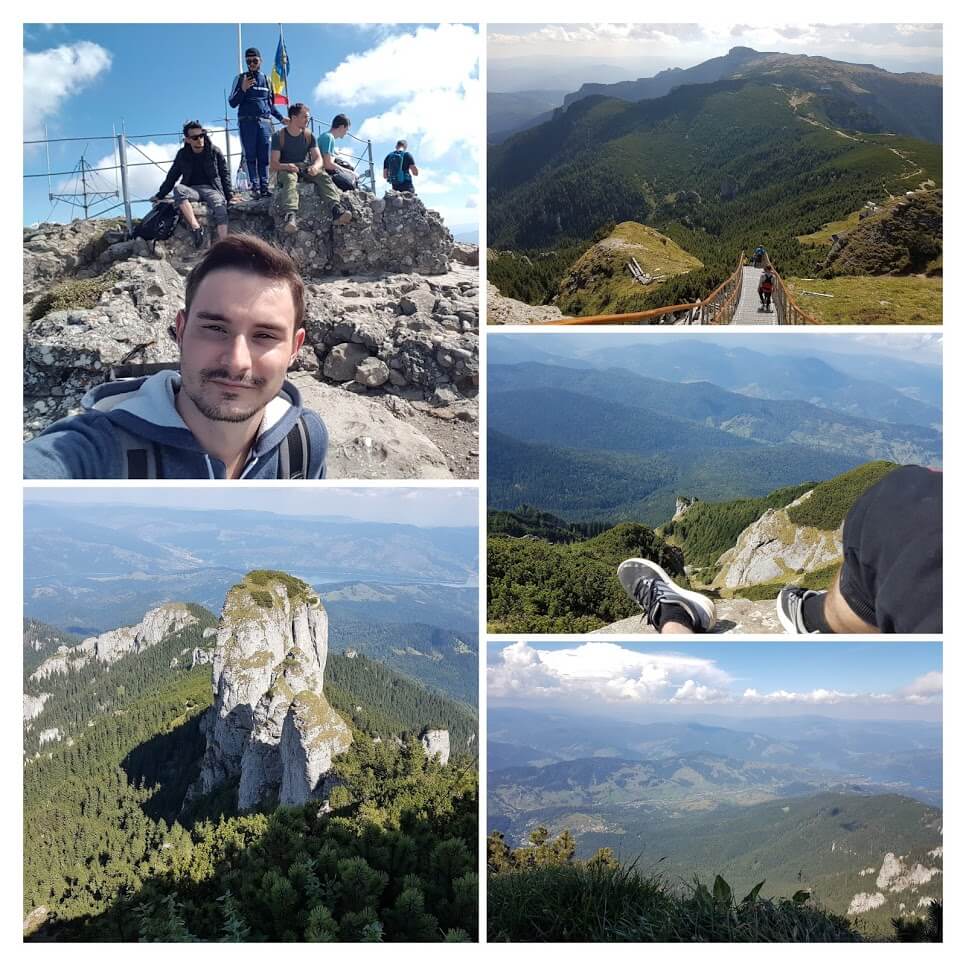 View from the peak
Ion Pascari (still more lessons to learn)
  As everyone knows, this world is organized in such a way that everything is pretty balanced. After a great night, we had to pay an expensive price the next day, the hiking day! So yeah, the next day we woke up with the expected traditional hangover, you know what I am talking about: red dead eyes that are looking for blood, that poisonous breath that could kill a horse and that crazy thirst like I've just escaped from Sahara desert after 5 years of wandering without any water. So just like that: Lesson 3: Never ever drink alcohol before hiking! Sounds a bit obvious, right? Well, it wasn't that obvious to us when we were celebrating.
  After 3 hours of hiking, we were still pretty motivated, we were hiking quite good and then I felt something in my left leg, it was a muscle cramp, it almost took away my ability to walk, God it was painful… Of course I stopped to rest my left leg and I thought about distributing the effort on the right leg, I mean just switch a bit the way of walking so the right leg would always come first and the left leg would come second so it`ll rest, good plan, isn't it? Except that after 10 minutes of hiking this way, I got a muscle cramp in my right leg and man that's how I saw hell, trying to balance on the left leg got me the left muscle cramp back. It was so painful, that I grabbed the next tree that I saw with my hands and, while holding it, I fell to my knees. Then suddenly, while being down, all movement stopped like a jammed ciné film. My body was screaming. It was because of that insane pain and every time when I was trying to get up and walk again, my legs did not want to listen to me.
  Being at half of the distance that we had to make, I started thinking that I am not going to make it, and going back was not an option for me either because of the pain. I thought that I'm probably are going to die out here. But, why did this happen?
  Ahhh, now I remember, being a "sporty" guy with an increased self-confidence, I had a leg workout at the gym a day before the trip, so probably my muscles did not get enough rest, and for this brilliant idea I had to pay much more than for the previous one with the alcohol. Therefore, kids, listen to me, Lesson 4: Never do a leg workout before hiking!
  Yeah, you heard me right, don't get that self-confident and never show off in front of a mountain, these mountains were sitting and waiting for dumb guys like me for thousands of years just to destroy their confidence with the snap of a finger. So again don`t mess with the mountains, you either play by the mountain`s rule or you`re not playing at all.
  Back to my story, I don't know how, but I did overcome the pain and that psychological barrier of not making it, I just started to feel guilty about coming that far and thinking to go back and not seeing the peak, and with the right amount of stops to rest my muscles and massage them, I made it to the top.
  Being up there at the chalet Dochia, we'd started to wonder where Radu and Eugeniu were. This is another interesting part of my story, these superhumans came to hike a mountain with their kids and wives, yeah you heard me right! With their kids! They brought special backpacks to carry their kids on shoulders, for me it was beyond my level of comprehension.
  While being up at the chalet Dochia we started to make bets if these two families will make it or not, I was with the guys who bet against them… I know, I know. But I just could not imagine how this could be possible. I've told everybody if I see them there with their kids I can die peacefully because I saw everything. And shortly after we made the bets, we saw Radu arriving with his daughter in the backpack, his wife with their little boy also in the backpack, Eugeniu with his daughter in the backpack and his wife with all the equipment.
  That was unbelievable! I just dropped my jaw. For me, being an average sporty teenager it was so difficult this whole hike that I felt it with my bones and every muscle, but these people, they deserve a standing ovation. So last, but not least: Lesson 5: Never underestimate people!
  After that, we gathered to have a Radauțean soup. Me and some other guys, headed out to the peak. It was around 1 km or something and 527 stairs to climb up, totally worth it when you`re up there. It was amazing, I felt invincible while being on the peak Toaca with my friends, admiring that mesmerizing landscape and those almighty mountains and knowing that I made it. Nothing mattered at that moment, time just stopped, I felt more alive at that moment than ever. Mother Nature did it again, the first time it was at the Niagara Falls and now the Ceahlău mountains. I don't have enough words and paper to describe what my eyes have seen there, maybe I'll do that in another story, but for now I`ll leave you with these 5 rules that I've had to learn the hard way and a recommendation: Definitely try it!
Eugeniu Serbaniuc (an "easy" walk in the mountains)
  Having an ascending speed lower than the rest of the group, I decided not to hurry but to enjoy all the beautiful views we encountered.
  At some point, Radu with his family caught up with us, which was a bit unexpected as they should have taken another track. It seems they parked the car a bit earlier than it was initially planned, a step that brought them on the same track where we were. Great! From this point, we kept together through the long and steep ascents with tree roots on our way. It was so difficult, that made me use almost all my energy batons. And it was supposed to be one of the easiest mountains to hike in Romania…really?
  To say it was exhausting would be the least how I could describe that feeling. Thanks to our personal motivational trainers – those little humans which see their parents as superheroes – a feeling that helps you keep the right pace, or do you think you have another choice?

Little heroes
  We tried to get some more motivation from every step we did – considering it as the last training session for the International Chisinau Marathon, an event me and Radu planned to attempt in September. Well, this was a boost for only 30 minutes but it helped us see the Heaven, a plain field with lots of sunshine and a house with a lot of people: finally, we have reached Dochia Guest House.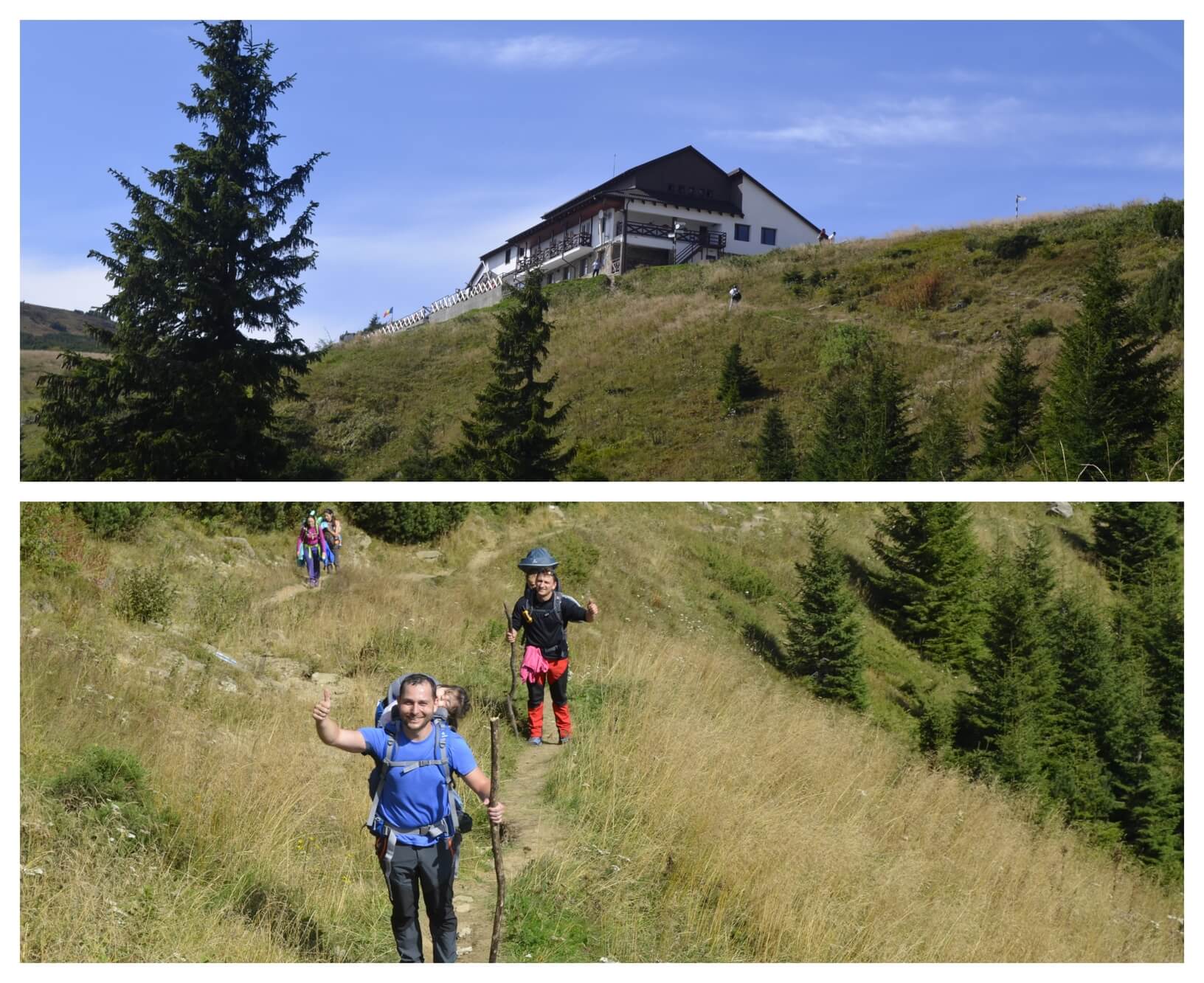 Dochia Guest House
  There we met some of our colleagues already enjoying the mountains sights. It took us more time than we've planned, so we decided to not take the summit and keep some energy for the descent. Yeah, sometimes you have to give up, a conservative way when you travel with your family.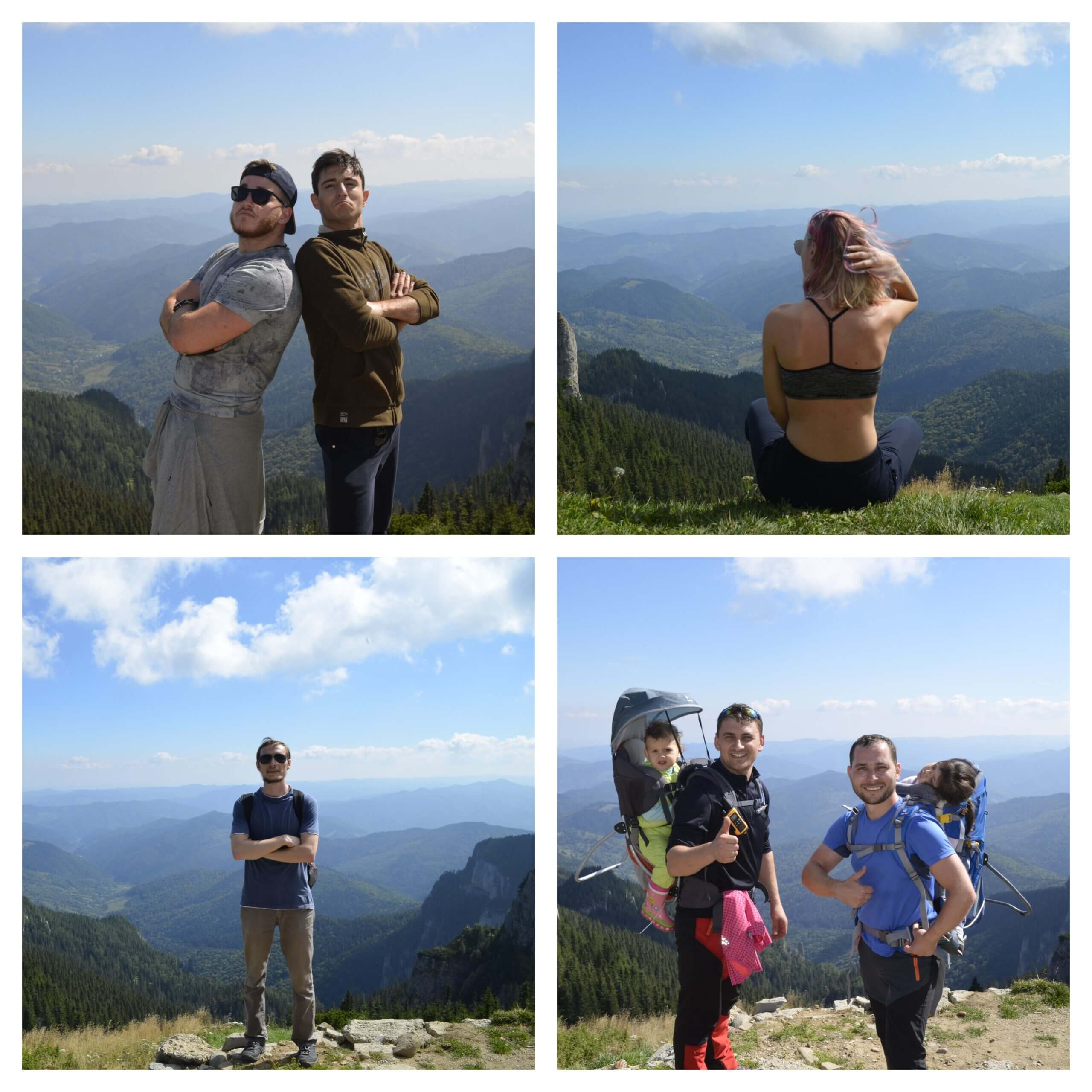 Enjoying the mountains
  While we were having lunch at Dochia and other guys were enjoying the outstanding view from the Toaca peak, enormous dark clouds suddenly appeared on the clear blue sky – that was the 63% chance of rain I mentioned in the beginning.
  I'm sure all of us would have enjoyed even the rain, as we expected it and were prepared with rain covers. But lucky us, we got just cloudy weather, thank you Mountain Gods!
  For the descent, we decided to take a 7.5 km track, longer than the first one which means to be less steep… theoretically…and, of course, not this time.
  There were really steep and rocky sections which slowed us down a bit and made the path more dangerous than we had expected. More so, instead of descent only, the track contained some ascending sections which were trying to destroy us, but we were unbeatable!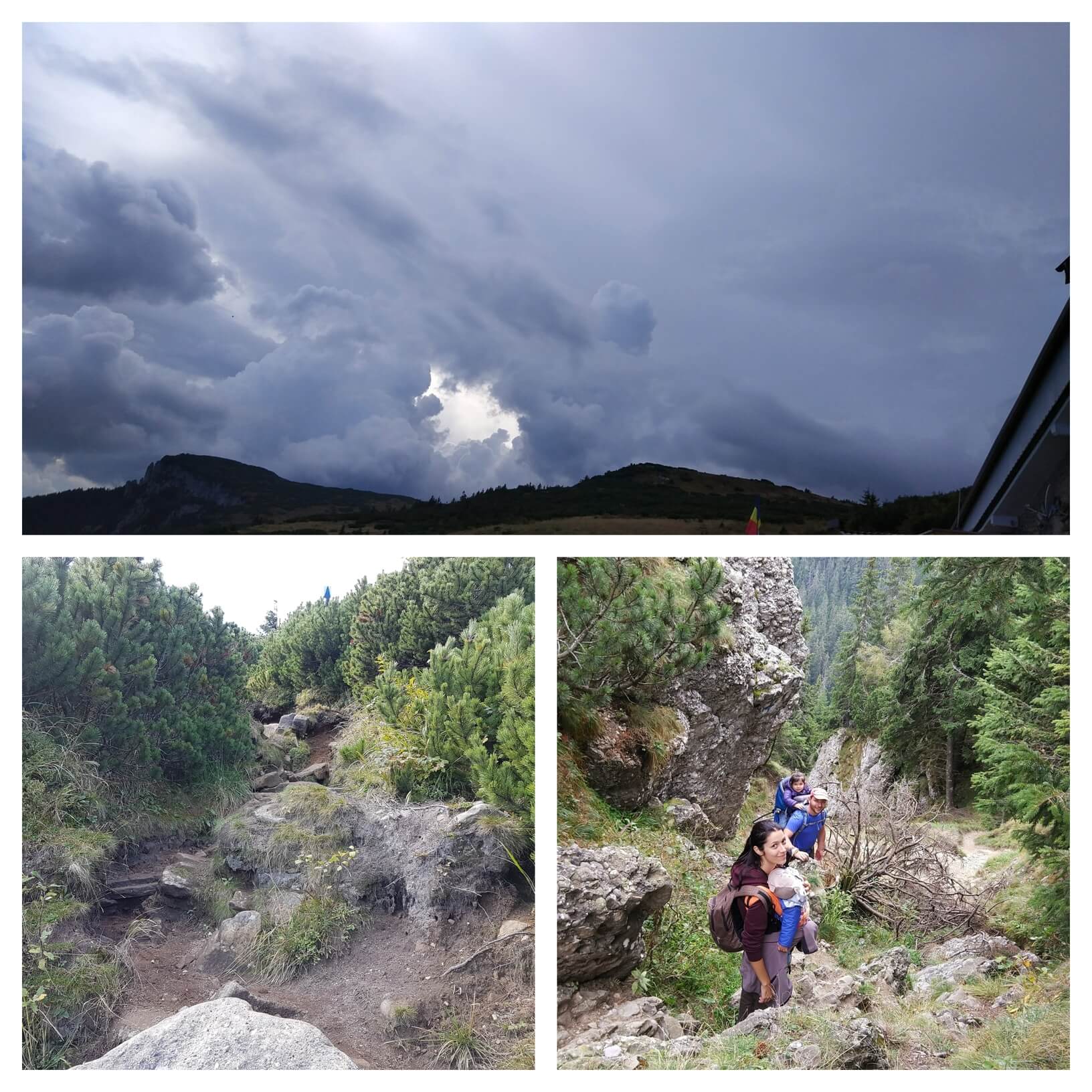 Dark clouds and steep rocks
  A long trip always has pros and cons, so on the other side, on this longest track, we discovered lots of outstanding views.
  We have reached the base camp when it was almost dark, but still, using flashlights some of us had the courage to take a "hot" shower under that small cascade near the camping zone. Even though it was really cold, we, definitely, enjoyed it. This is another experience the mountains might offer.
  The evening continued with a nice and warm camp dinner where everyone was sharing their joy and fatigue, but besides that, everyone was fulfilled and happy.
  The next morning, after a group photo we said Goodbye Ceahlău and drove the way home.
Terminator(s)
We'll be back
  Was it the people who were surrounding us? Was it the beauty of the mountains and that fresh air? Was it that homemade moonshine from Ungheni? Or maybe all of the above together that made our weekend unforgettable in Neamț County? We are still trying to figure that out, but definitely, this has been a great experience which will lead to other ones!